When you think of ballet, you probably think of ballerinas in tutus doing pirouettes, and not a stylish flapper and a football quarterback.
In a classical dance world dominated by tradition, pioneering dancer and choreographer Ruth Page sought to develop something new: an American ballet. With the Roaring Twenties as her backdrop, Page drew inspiration from novelty dances like the Charleston and the emerging "co-ed" attitude on college campuses to create one of the first ballets to revolve around American themes: The Flapper and the Quarterback. Premiering in December 1926 at Eighth Street Theatre in Chicago, it was hailed by reviewer Ruth Peiter of the Toledo Times as "American as ice-water, toothpicks and slang."
Peiter's review traced the ballet's influences to the images of American cartoonist, printmaker, and illustrator John Held, Jr. Page explained that she created the ballet because "we didn't have a single genuinely American thing on the program. The John Held cartoons inspired it—what could be more typical of American college life…The dance succeeds, I think, because it is really a bit of contemporary American life. But that is always the most difficult subject for interpretation."
A 1938 clip of the ballet from the Chicago Film Archives reveals the whimsical nature of the dancing. The footage shows Page and dancer Paul du Pont performing or practicing the piece, and aptly confirms an early description of their movements: "With reckless abandon, the two characters gyrate and tumble through a series of episodes which include hints of all that is modern in ballroom dancing, and much that is modern and bears no relation to dancing. Some parts of the dance are sly and subtle, others are burlesque, as broad as the lower campus."
Although the footage has no sound, the Newberry holds an original piano score written by Chicago-based musician and composer Clarence Loomis, whom Page commissioned to create the music.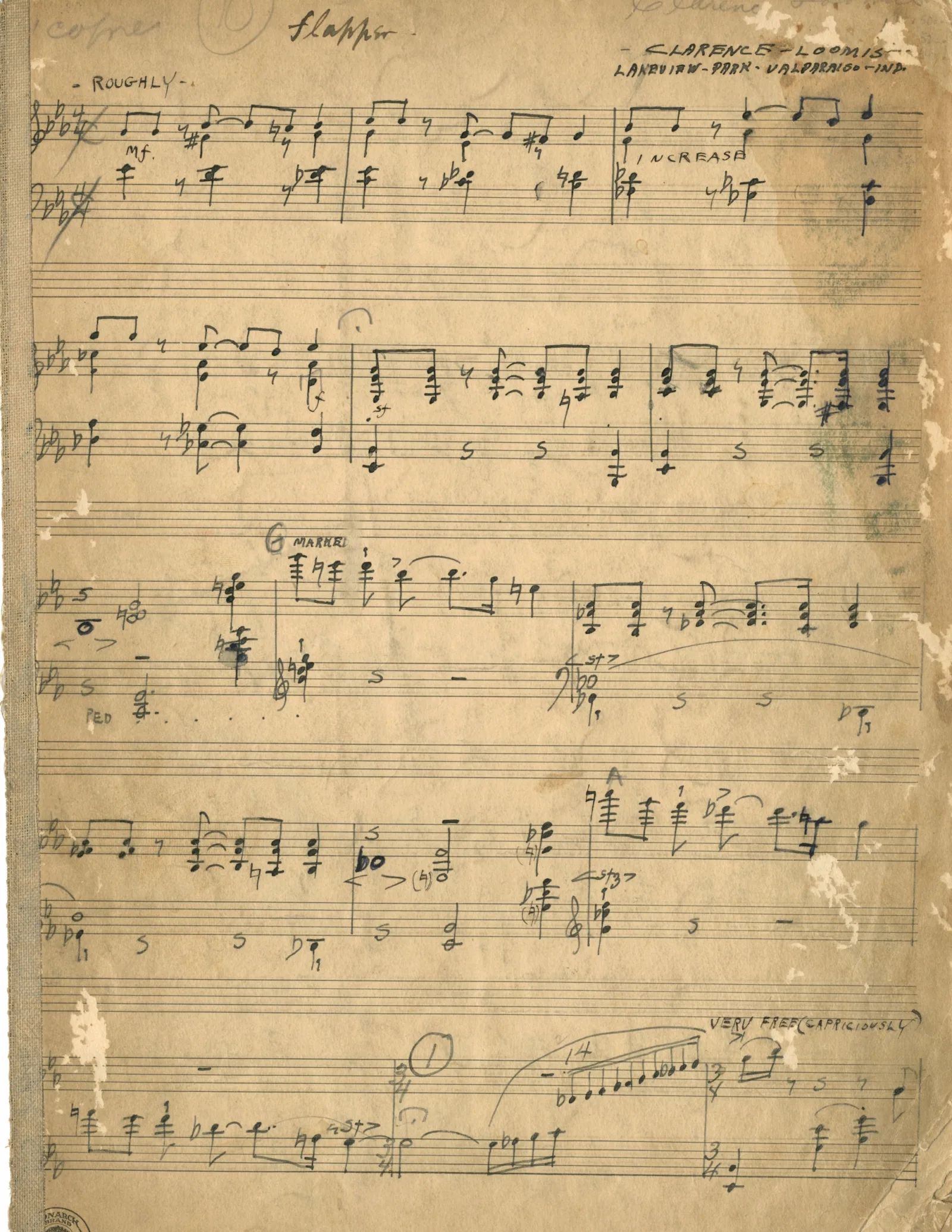 Ruth Page (1899-1991) was born in Indianapolis. After meeting famed dancer Anna Pavlova in her early teen years, Page started studying dance with Jan Zalewsi in Chicago. She continued studying with Adolph Bolm of Ballets Russes in New York City, and eventually toured South America with Pavlova. Along with Bolm, her many collaborators included Bentley Stone, Katherine Dunham, and Harald Kreutzberg. In addition to her active performance career, Page founded the Ruth Page Foundation and School of Dance, the Chicago Opera Ballet, and served as ballet director for the Ravinia Opera and the Chicago Grand Opera.
Items related to this ballet and many others can be found in the Ruth Page Papers, a processed collection in the Midwest Dance Collections at the Newberry. The Ruth Page Papers and the Ruth Page Foundation Records were both processed as part of a grant from the Gaylord & Dorothy Donnelley Foundation, and are available for research.
About the Author
Catherine Grandgeorge is the Manuscripts and Archives Librarian at the Newberry.