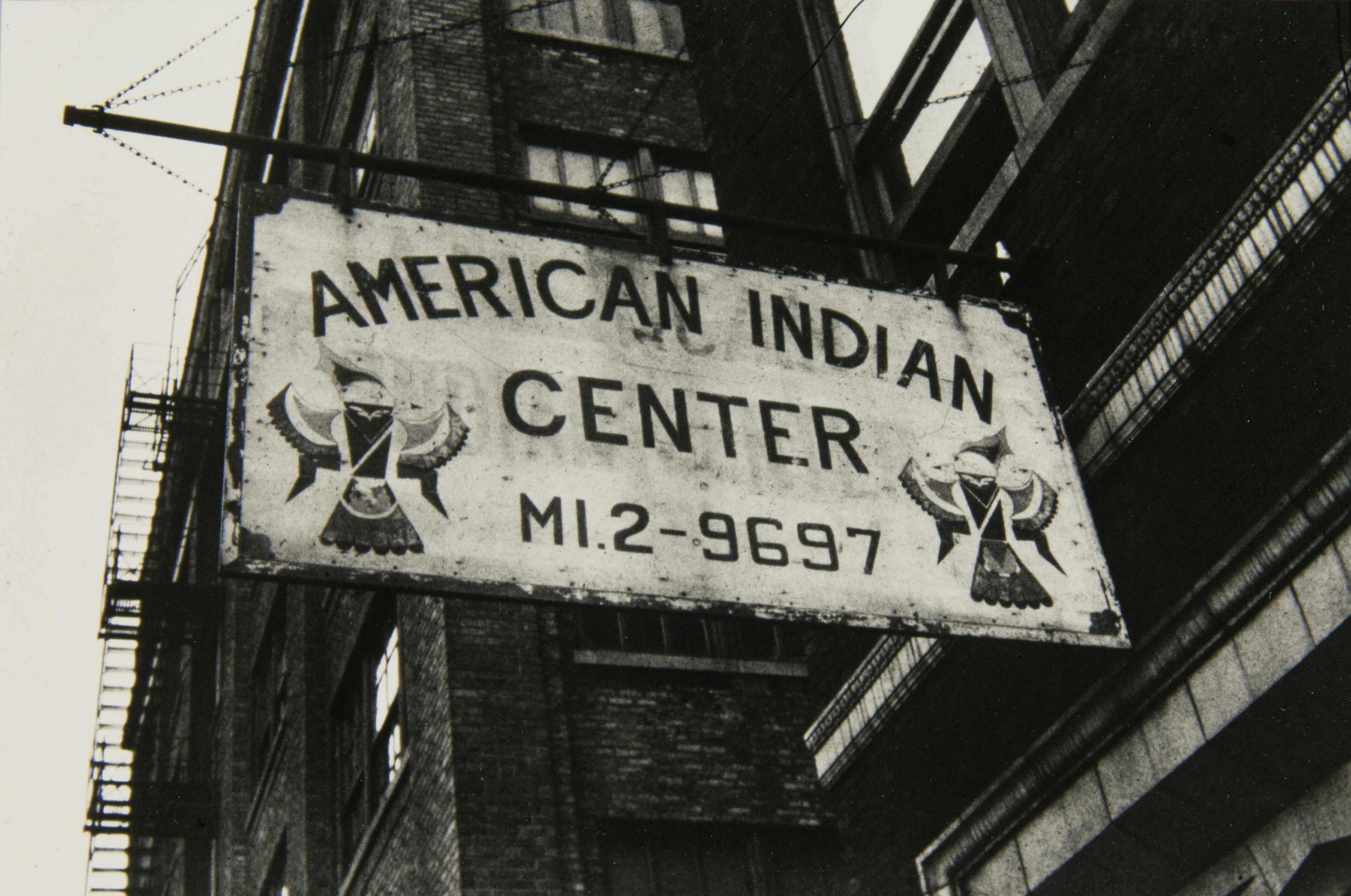 As part of our commitment to addressing the ongoing legacies of dispossession and settler colonialism, as well as our relationships with the city, the land, and the environment, the Newberry Library has written the following land acknowledgment in partnership with the Chicago American Indian Center.
Located near the confluence of several waterways, the Newberry Library sits on land that intersects with the aboriginal homelands of several tribal nations: the Council of the Three Fires: the Potawatomi, Odawa, and Ojibwe Nations; the Illinois Confederacy: the Peoria and Kaskaskia Nations; and the Myaamia, Wea, Thakiwaki, and Meskwaki Nations. The Ho-Chunk, Menominee, Kiikaapoi, and Mascouten Nations also call the region of northeast Illinois home. Indigenous people continue to live in this area and celebrate their traditional teachings and lifeways. Today, Chicago is home to one of the largest urban Indigenous communities in the United States, and this land remains an important place for Indigenous peoples. As a Chicago institution, it is the Newberry's responsibility to acknowledge this historical context and build reciprocal relationships with the tribal nations on whose lands we are situated.
The Newberry has a long history of partnering with tribal communities to promote Indigenous studies from an Indigenous perspective. The library remains committed to continuing that legacy by educating its users about the history of dispossession and settler colonialism. Today, these terms are used by scholars and others to describe attempts to take over Indigenous land and eliminate Indigenous peoples, nations, cultures, and languages by replacing them with a new settler population.

Collections Related to American Indian and Indigenous Studies
The Newberry's holdings include extensive print and archival collections of materials on Indigenous culture and history, much of it collected in the early 20th century by Edward E. Ayer (1841–1927), a Newberry trustee. This material serves as a useful resource for research on tribal histories, Indigenous languages, and cultural revitalization. The Newberry's collections, however, are tied to the history of dispossession and settler colonialism in the United States.

D'Arcy McNickle Center for American Indian and Indigenous Studies
In 1972, the Newberry established the Center for the History of the American Indian, under the direction of D'Arcy McNickle (Metís). Its founding intervened in ways designed to ensure that Native people could access and effectively use the Newberry's collection, especially to improve the way Native history has been written and taught. Now named the D'Arcy McNickle Center for American Indian and Indigenous Studies, the center has a 50-year history of supporting scholarship and programming to amplify Native American voices.
Frequently Asked Questions
A land acknowledgment is a statement that recognizes a place where Indigenous peoples have lived historically and continue to live today. It calls attention to Indigenous peoples' ongoing connections to a place and to the importance of confronting the often violent history that forced them from that land. It also recognizes how institutions have benefited from dispossession and settler colonialism, as well as how they can work with the tribal communities whose land they are situated on to explain this difficult history to the public.
A land acknowledgment recognizes that the Newberry has benefited from what scholars call "settler colonialism," the effort to encourage white newcomers to settle and colonize Native American territory and thereby dispossess Indigenous peoples from land that they had occupied and considered important since time immemorial. This coerced dispossession and forced removal of Native peoples through treaties and various military campaigns throughout American history is essential to understanding the history of Chicago, including its cultural and educational institutions.
Land acknowledgments have become an increasingly common practice in recent years. The Newberry's land acknowledgment is often spoken at public events and scholarly programs. It is also posted in the Newberry's welcome center, where members of the public register to use library collections.

The Newberry conducted extensive research, using primary and secondary sources about the history of Chicago and the history of Indigenous peoples. Our staff worked closely with other members of the Chicago American Indian Community Collaborative (CAICC) and the Chicago American Indian Center to write the acknowledgment. We also consulted with Native community members, several of whom are scholars of Indigenous studies and advisors to the Newberry's McNickle Center for American Indian and Indigenous Studies.
No. ​Nor does it imply or suggest a hierarchy of Indigenous rights to land. Many different Indigenous nations have settled in Chicago ​and the region throughout history. To reflect the dynamic nature of this place, the Newberry's land acknowledgment includes an expansive list of Indigenous nations who have called the Chicago region home. It is not the library's intent or right to identify primacy of place for one contemporary nation over another. Rather, we want to make plain the Newberry's responsibility to the nations ​on whose land it sits as well as confirm​ the library's determination to continue building reciprocal relationships with Indigenous communities.

We use the words "Indigenous" and "Native" to be inclusive of all peoples who are the original inhabitants of a place. These words are most common within the United States, while in Canada "Indigenous" or "Aboriginal" are preferred. These words can generally be used interchangeably and encompass more specific terms like "American Indian," "Alaska Native," "Native Hawaiian," "First Nations," "Métis," "Inuit," "Naciones Originarias," and others that refer to Indigenous peoples in specific regions.

The words "people" or "peoples" often follow "Indigenous," "Native," and "Aboriginal." We use "people" to designate one group or nationality and "peoples" in reference to multiple groups or nationalities. Instead of referring to groups of Native peoples as "bands," we use the terms "tribe" or "nation."

The Newberry also strives to use terms that are most widely accepted and used by Indigenous peoples themselves. For example, rather than "Winnebago," "Fox," or "Chippewa," we say "Ho-Chunk," "Meskwaki," or "Ojibwe" respectively. Sometimes names given by non-Native settlers (also known as exonyms) are the same as those used by Native people today. Likewise, the legal names of tribal nations often include exonyms, even if the people within that nation use a different word for themselves.
The Newberry was founded with a bequest from Walter Loomis Newberry (1804–1868), who first came to Chicago in 1830, speculated in land recently dispossessed from Native Americans, and built a fortune through real estate and shipping, activities central to the settler colonial project. His will included a bequest to establish a library free and open to the public.

The major American Indian and Indigenous studies collection at the Newberry was donated by Edward E. Ayer, a trustee of the Newberry with significant interest in Indigenous histories and cultures. Ayer's collecting practices exemplify what scholars today call "salvage anthropology," in which non-Native anthropologists, archaeologists, and collectors traveled to Native communities and removed (often without permission) sacred and cultural objects; information related to Indigenous languages, teachings, and lifeways; and even human remains from their tribal contexts. They often sold these items or published this information without tribal permission. These scholars and collectors erroneously thought that Native peoples were disappearing, and some claimed it was their duty to "save" these materials and information from extinction.

Ayer, who made his fortune selling timber to railroad companies in support of westward expansion, shared these misconceptions. He collected printed material about and objects from Native communities. In 1911, he donated print materials to the Newberry and objects to the Field Museum.

While these materials are now rich resources of research for many Native communities across the globe, it is critical to acknowledge the role that this collection has played in furthering the false notion that Native peoples have disappeared. Moreover, the aggregation of these materials in Chicago has made it difficult for many Native community members to access information that was removed from their communities. A land acknowledgment allows the Newberry to recognize and educate the public about the many legacies of dispossession and settler colonialism. It also reaffirms our commitment to addressing the legacies of dispossession and settler colonialism and working with tribal leaders to make the materials in our collection more accessible to Indigenous peoples across the globe.
The Newberry has established relationships with many tribal communities and has structures in place within the library to facilitate access to and understanding of our collections. Since the donation of the Ayer collection in 1911, there has always been a designated librarian to oversee and facilitate access to the collection. Native scholars and community members have accessed the collection from the early twentieth century to the present day. The D'Arcy McNickle Center for American Indian and Indigenous Studies, founded in 1972, is one of the oldest centers for Indigenous studies in the country.

Today, the Indigenous Studies Ayer Librarian and the McNickle Center staff work with tribal historians, archivists, and other community representatives to identify library materials of interest and enable Indigenous audiences to access and use them. The McNickle Center is an active member of the Chicago American Indian Community Collaborative, and it regularly partners with Native organizations throughout the Chicago area to design and implement collaborative programs, as well as support community-led initiatives.

The McNickle Center also runs the only national consortium in American Indian studies. The consortium links universities across the United States and Canada that are engaged in the training of graduate students in Indigenous studies and hosts three major programs and several fellowships each year that help train the next generation of both Native and non-Native scholars and educators in Indigenous studies.

Through these scholarly programs and our other initiatives, we continue to emphasize the importance of building reciprocal, long-term relationships with tribal communities.

Odawa (oh-DAH-wah)
Ojibwe (oh-JIB-way)
Potawatomi (pah-tuh-WAH-tuh-mee)
Peoria (pea-OR-ee-ah)
Kaskaskia (kahs-KAHS-kee-ah)
Myaamia (me-YAH-me-ah)
Wea (WAY-ah)
Ho-Chunk (HOE-chunk)
Menominee (meh-NOM-ih-nee)
Thakiwaki (thah-KEY-wah-key)
Meskwaki (meh-skw-AH-key)
Kiikaapoi (KEE-kah-poy)
Mascouten (mah-SCOOT-en)
The Newberry is free and open to the public. Please visit the library to see items from our core collection in American Indian and Indigenous studies, one of the strongest in the world. The McNickle Center regularly produces public programs that explore aspects of Indigenous culture and history.

To learn more about the history of Indigenous peoples who have lived or live near Chicago, we encourage you to locate and explore the websites of the many Ojibwe, Odawa, Potawatomi, Peoria (includes Kaskaskia and Wea), Myaamia, Ho-Chunk, Menominee, Thakiwaki, Meskwaki, and Kiikaapoi (includes Mascouten) tribal nations. You also can learn more about the present-day urban Indigenous community in Chicago through the Chicago American Indian Community Collaborative and the Chicago American Indian Center.

For further reading about the Native history of Chicago, consider starting with:
Helen Hornbeck Tanner, Atlas of Great Lakes Indian History (1987).
John N. Low, Imprints: The Pokagon Band of Potawatomi Indians and the City of Chicago (2016).
John J. Laukaitis, Community Self-Determination: American Indian Education in Chicago 1952–2006 (2016).
American Indian and Indigenous Studies Collection
The Newberry holds one of the largest collections of books and manuscripts on American Indian and Indigenous Studies in the world.
Learn More
Access to Culturally Sensitive Indigenous Materials
Respect for Indigenous cultural traditions and practices guides all aspects of library service at the Newberry.
Learn More