In 2017, the poet Kaveh Akbar donated to the Newberry the collection of around 1,400 postcards sent to him by photographer, poet, and teacher David J. Thompson. I was prompted to ask Akbar about the collection after reading his wonderful 2014 essay about it.
By his own account, Thompson sends "between ten and forty postcards every day there is mail delivery" to correspondents around the world from his home in North Carolina. These are not mass-produced commercial products; Thompson's postcards are homemade, featuring his own photography or quotations from his reading. A former student and another recipient of Thompson's postcard mailings, Aaron Robertson, points out in a recent essay that Thompson has made the postcard "into a literary genre."
Since the donation of Akbar's collection, I, too, have been the recipient of Thompson's literary mail art. The postcards come as delightful surprises in my Newberry mailbox at irregular intervals.
Thompson has continued to mail his missives throughout the COVID pandemic. I was comforted to find a stack of them awaiting me when staff returned to the Newberry building in the summer of 2020, with postmarks from March through June 2020. The typical Thompson postcard's absurdist humor, literary allusion, and prose poetry remain intact, but the postcards from these months also form a kind of time capsule for 2020. In a postcard from mid-March, for instance, Thompson wrote, "i can't help but think that easter will be late this year, if it comes at all. and it will fall on a tuesday. it's just a very, very odd year"—with an unexpectedly apt William Faulkner quotation on the image side.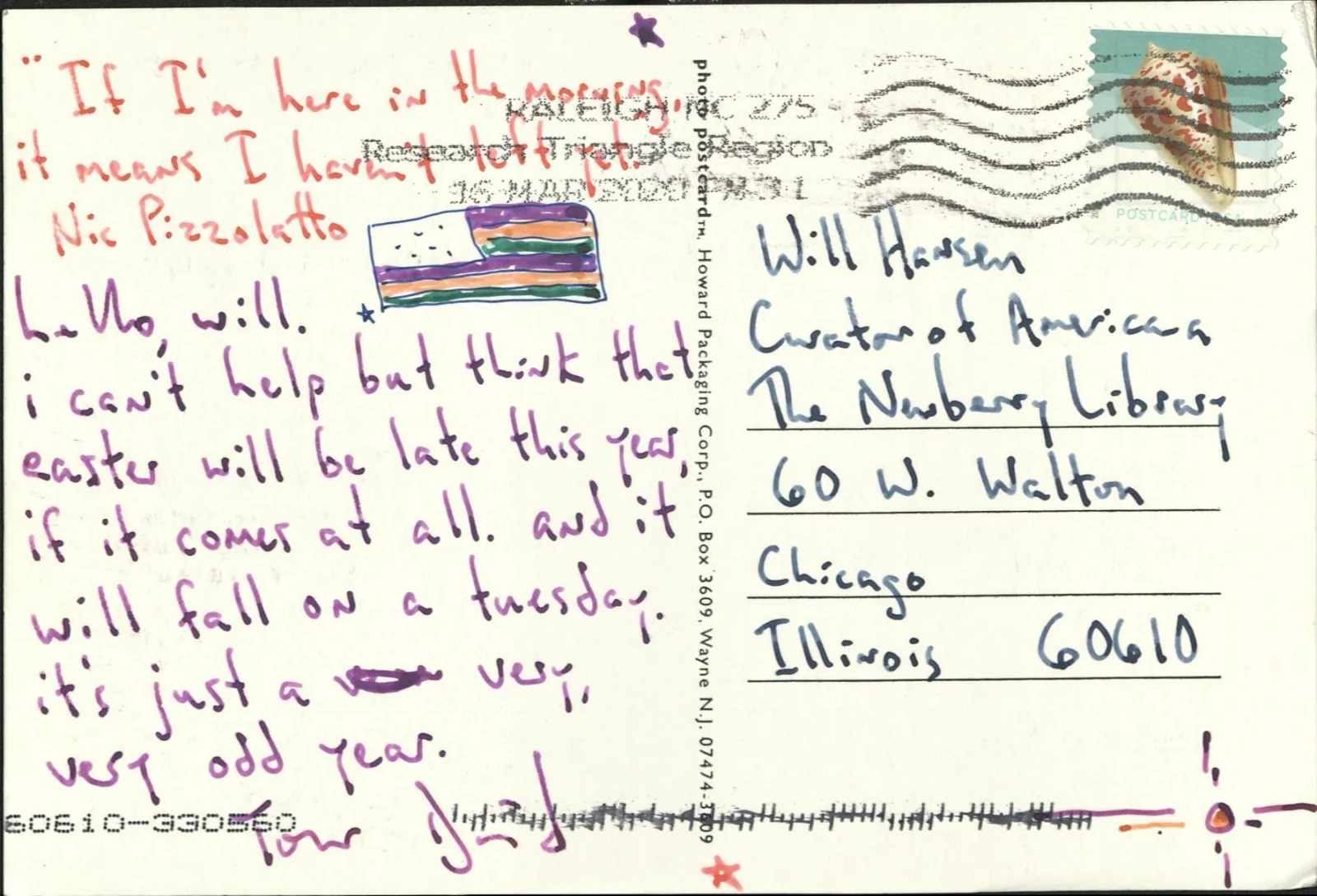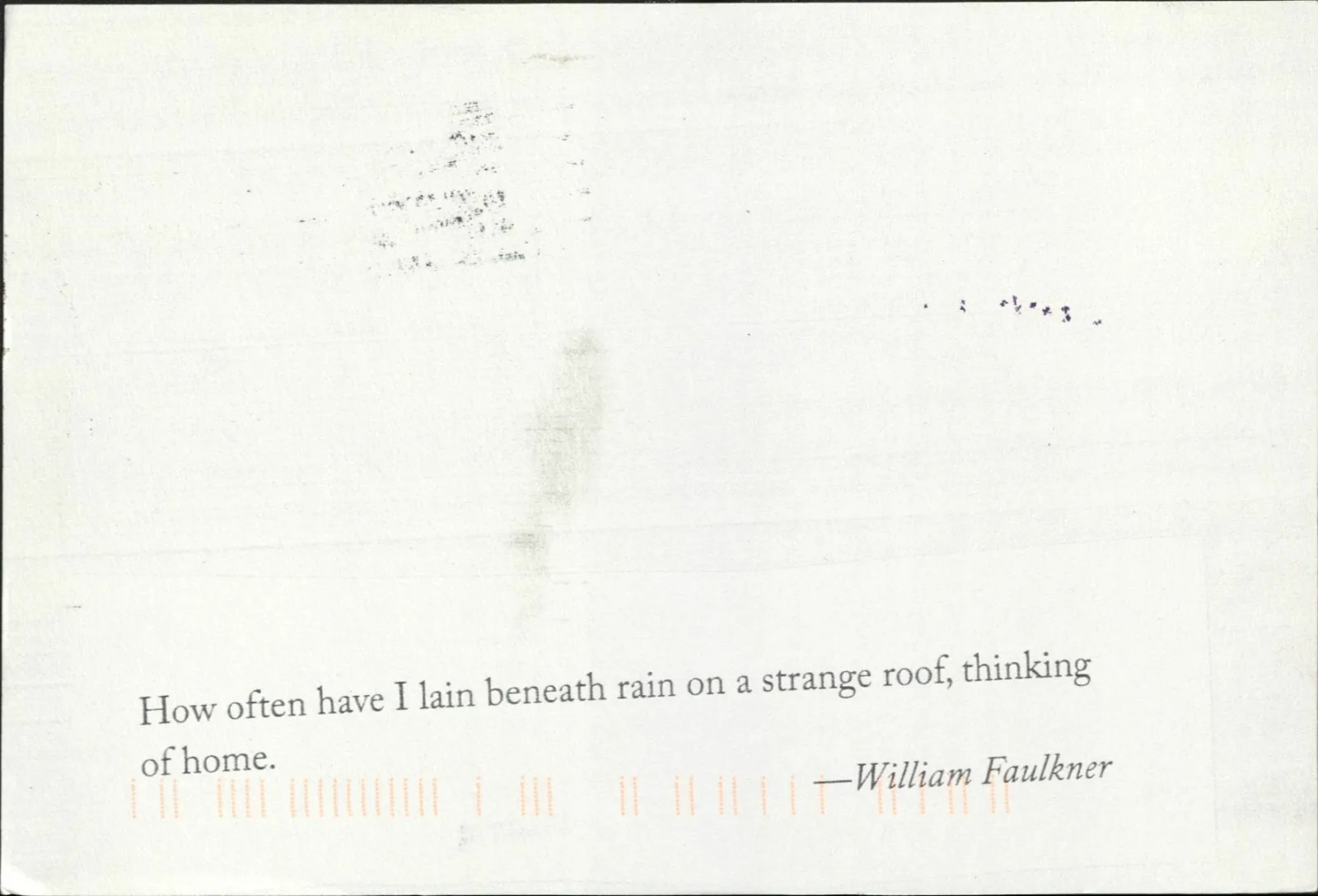 On one from May 2020, Thompson writes, "i guess i'll have to teach my vacation bible school classes online this summer. i'll miss the intimacy." As often, one wonders whether his postcards feature a fictional character named David J. Thompson. The image side features another powerful and timely quote from another Mississippi writer, Lee Durkee: "This ain't a love story, it's a prison break."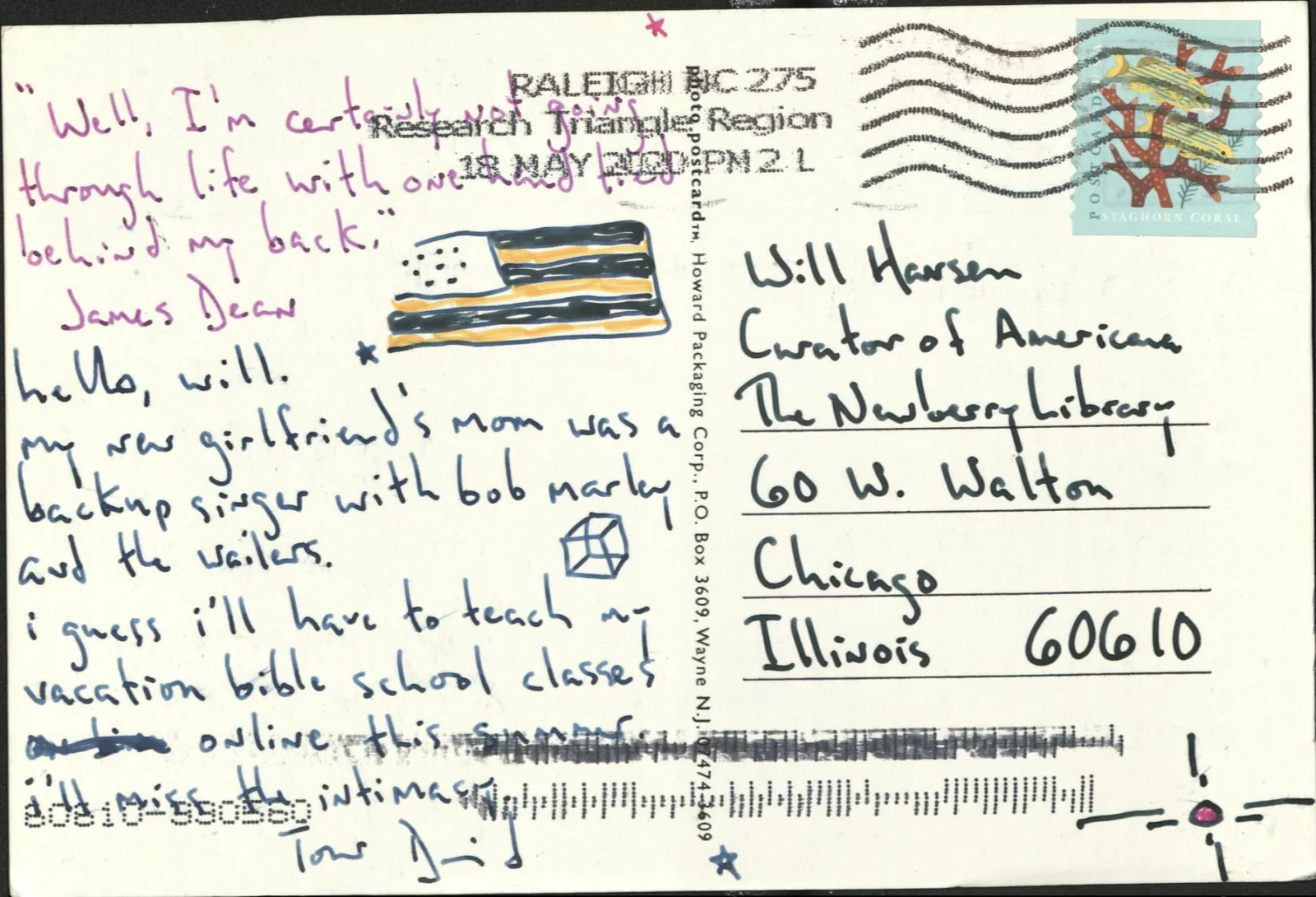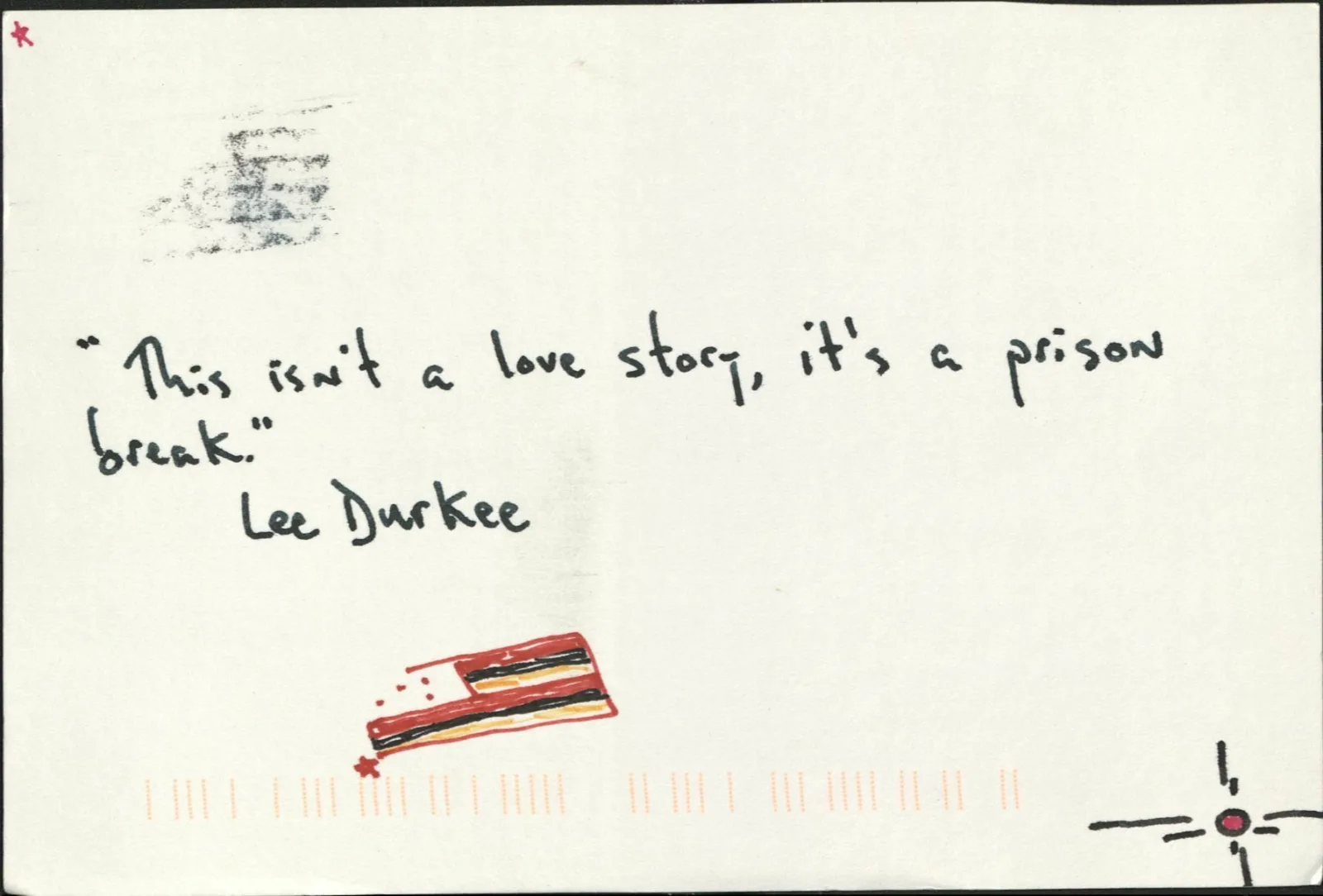 A postcard from June 2020 pairs a quote from the book of Job—surely a Biblical story on many minds in that year—with the statement that "I want all my postcards to be 'thinly evocative of all lost days and outpaced delights'" (another Faulkner quotation, from the novel Sanctuary).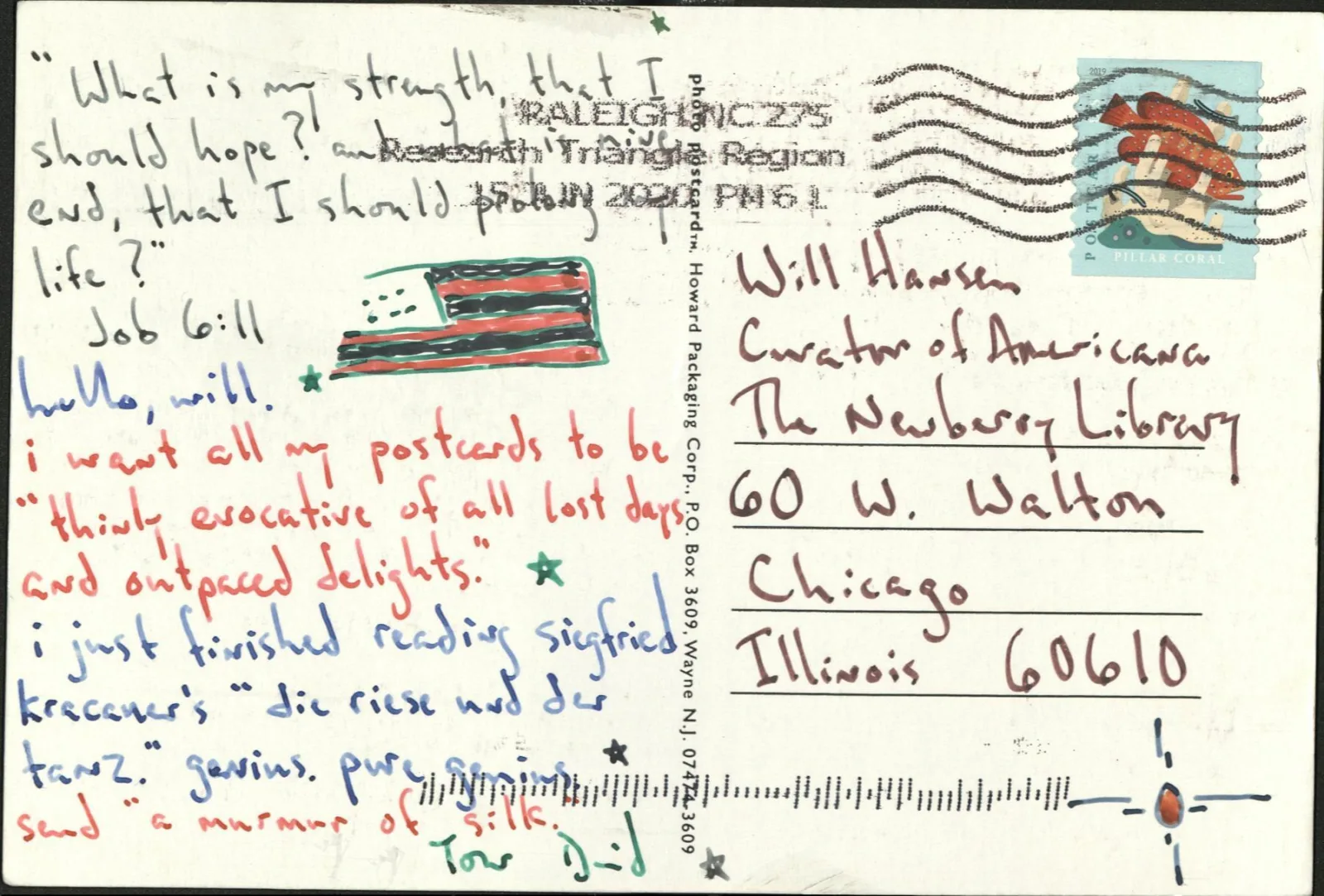 With their postmarks and barcodes, and with images or words sometimes smeared from their trips through the USPS sorting machines, the postcards also carry reminders of their physicality and mobility. Thompson's art depends on the mail—on dedicated workers and efficient systems. Occasionally a postcard sneaks through the system without a postmarked stamp, and it seems a little miracle, like the postal service itself.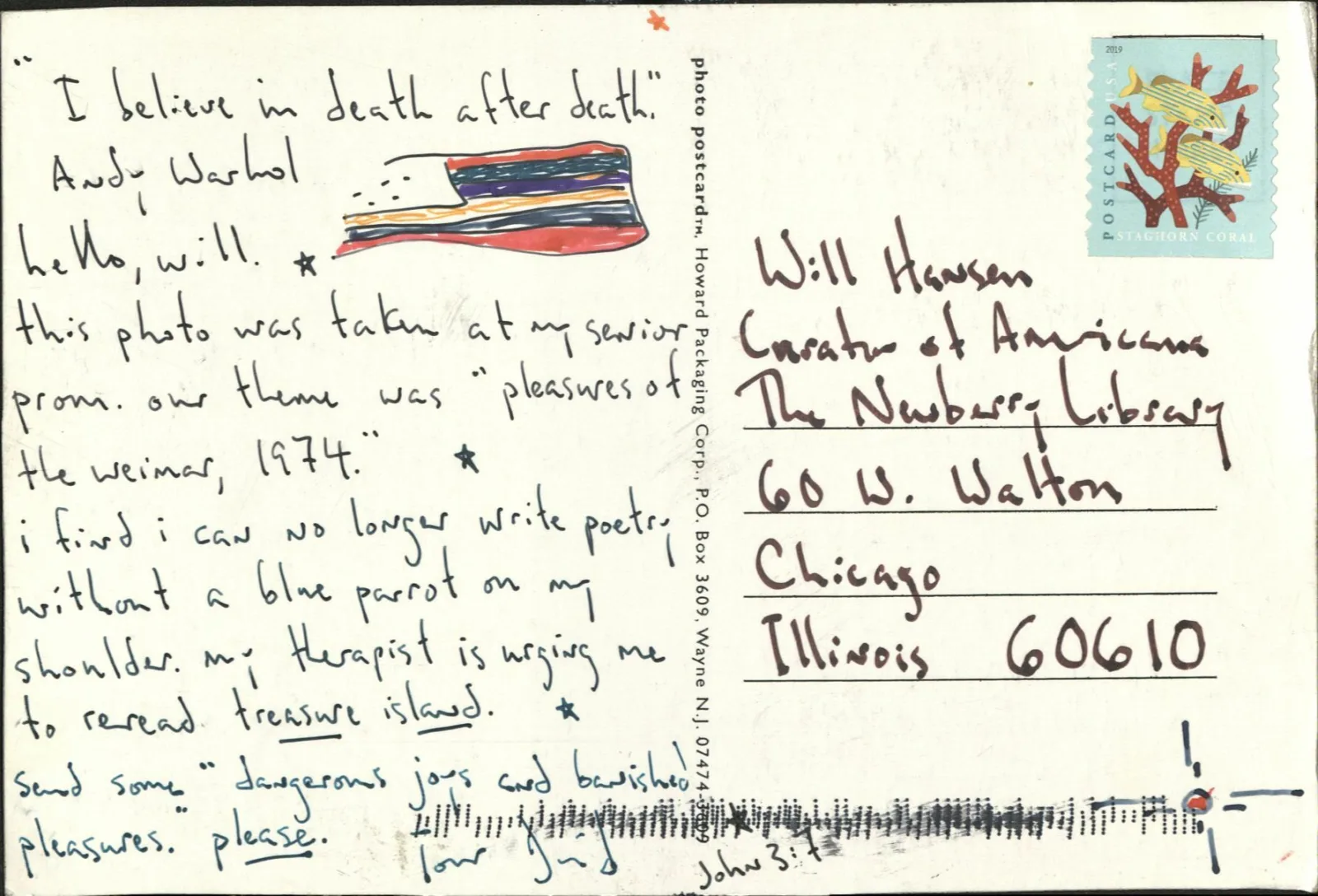 But when things are particularly discouraging, I also find myself returning to a postcard that Thompson sent in January 2020—as if he knew we would need hope in the years to follow, wherever we could find it.
About the Author
Will Hansen is Curator of Americana and Director of Reader Services at the Newberry.