Some people will believe anything they see in print.
In late 1885, a revolting rumor went around Chicago that Newberry Library founder Walter Loomis Newberry had been buried in a barrel in Graceland Cemetery after dying at sea in 1868. The rumor gained substance when the National Police Gazette ran a cartoon supposedly depicting the event.
Was it true?
Not quite, it turns out. But the story didn't come out of the blue. For though Newberry may not have been buried in a barrel, he had in fact narrowly avoided burial at sea by being temporarily preserved in a barrel of spirits.
The practice wasn't all that strange at the time. In fact, one of the century's best-known figures—British Admiral Horatio Nelson (d. 1805)—shared a similar fate.
Shortly after the British fleet routed Napoleon at the October 21, 1805, Battle of Trafalgar, the 47-year-old Nelson succumbed to battle wounds aboard his ship the Victory. In order to preserve the admiral's body, his doctor recommended that it be placed immediately in a brandy-filled barrel. Thanks to this precaution, the hero's body was preserved and subsequently buried in St. Paul's Cathedral, London, as he had wished.
A contemporary cartoon shows a sailor's makeshift shrine to Nelson. Instead of brandy, his version features barrels of grog––watered-down rum that was a seafaring staple.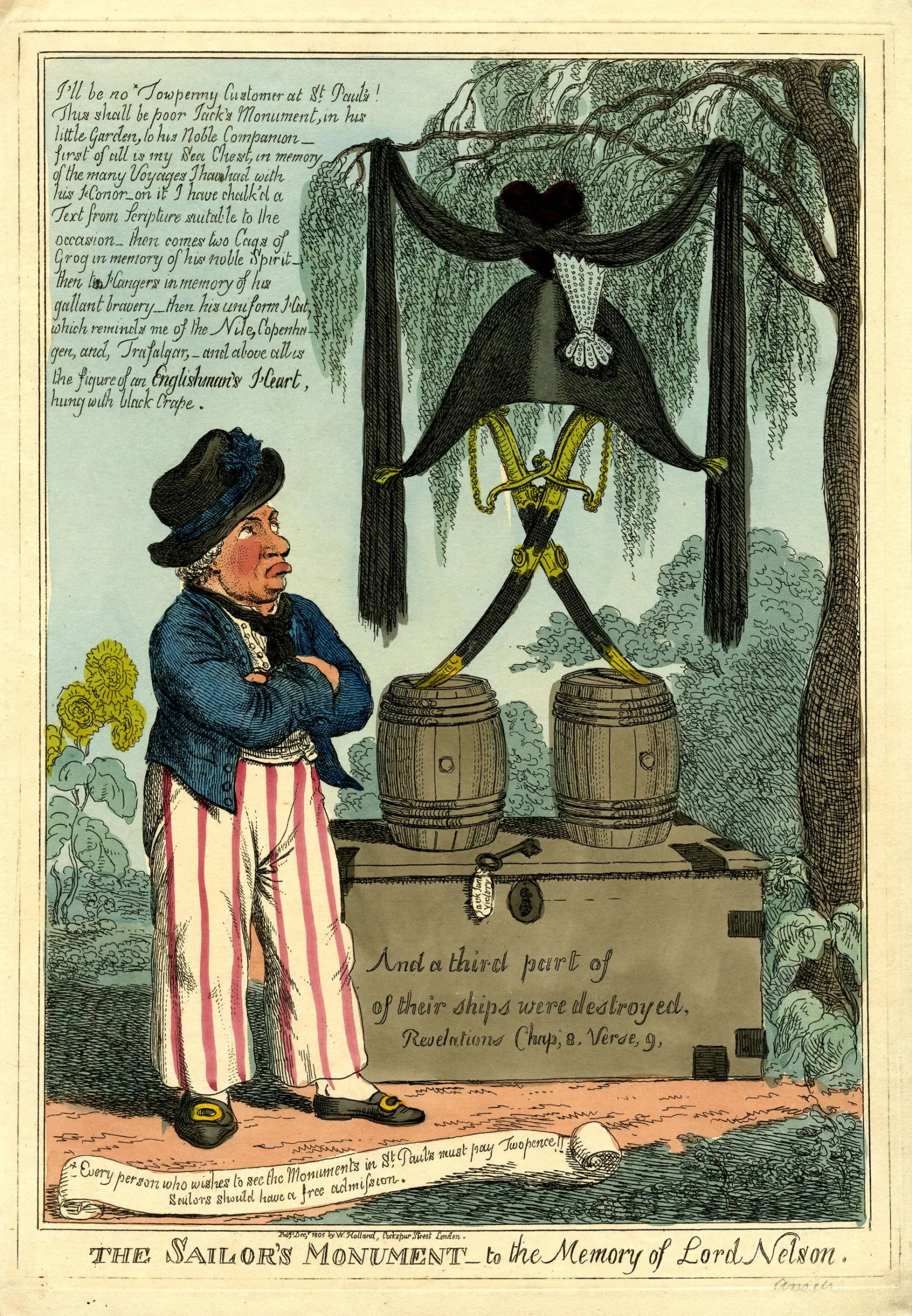 So there was famous precedent when, on November 6, 1868, Newberry perished aboard a steamship en route from the United States to France, where his family was living. (His ship, the Pereire, would make a brief appearance in Jules Verne's Around the World in 80 Days.)
Newspaper accounts differ, but the Pereire's captain evidently did not commit Newberry's body to the ocean, despite being six days away from France. A rum cask was procured from the hold to be used as a receptacle, and later charged to Newberry's widow. (The cask contained Massachusetts Medford rum, the fine spirit rumored to have wet the whistle of Paul Revere during his famous Midnight Ride.)
Newberry's death led to a brief public debate over how to treat corpses at sea. On December 6, 1868, a New York Times correspondent used Newberry's demise to argue for the installation of "hermetically sealed coffins" on ships. A response published the following day argued that the captain had acted legally, and in good faith.
Regardless, the rumors concerning the fate of Newberry's body soon subsided, and he was returned to Chicago and buried in Graceland Cemetery.
But when Newberry's widow died in 1885, the rumor about her husband's manner of burial again began to circulate. On December 26, 1885, the New York Times ran an unsigned article entitled "Buried in a Cask of Rum." It alleged that rather than being used for shipboard storage only, the rum barrel with Newberry's body had continued its international trek from France back to New York, taken a cross-country train, and been duly deposited in Graceland Cemetery! The tabloid cartoon published in the National Police Gazette only fueled the flame.
Then, on January 22, 1886, a stern letter from Chicago appeared in the Times. "Not Buried in a Cask of Rum," insisted the statement from General Dwight Morris (US Consul at Havre in 1868, the year of Newberry's death), who claimed to have received Newberry's cask. Morris testified that he had Newberry embalmed and placed in a more appropriate casket, contacted his family, and shipped the casket home for proper burial. In closing, he dryly noted, "I trust this statement will effectually put to rest the absurd story as to burial in a cask of rum."
This clear and concise rebuttal, though overlooked by those who prefer the rumor, should have put all doubts to rest. Like Nelson's tomb at St. Paul's, Newberry's eternal repose involves an actual coffin, and a monumental amount of carved stone.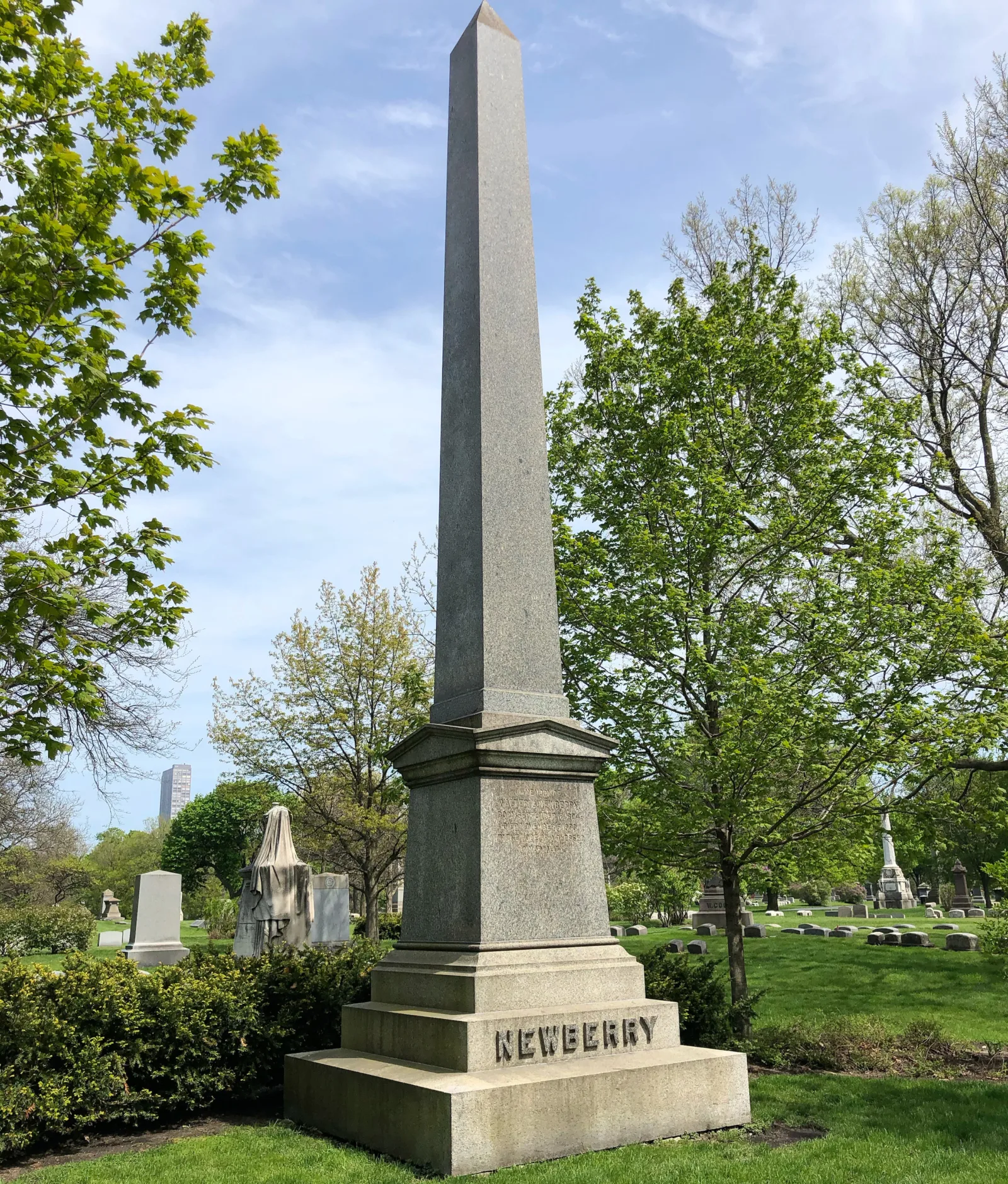 About the Author
Suzanne Karr Schmidt is the George Amos Poole III Curator of Rare Books and Manuscripts at the Newberry.