The following is an excerpt of an article that first appeared in Seeing Race Before Race: Visual Culture and the Racial Matrix in the Premodern World. It is reprinted with the permission of ACMRS Press, a publications division of the Arizona Center for Medieval and Renaissance Studies at Arizona State University in Tempe, Arizona. The full article is available here.
When Edward E. Ayer donated his library to the Newberry in 1911, he also stipulated his library always have a librarian or curator stewarding the Indigenous Studies collection. The first two Ayer librarians at the Newberry were white women: Clara Smith, who was also Ayer's niece, and Ruth Lapham Butler. White men and a white woman thereafter took their places. Before the 1970s at the earliest, it can be presumed that the majority of users and possibly staff using the American Indian and Indigenous studies collection would be white (or, at least, non-Native). The founding of the D'Arcy McNickle Center for American Indian and Indigenous Studies in 1972 helped shift and improve this way of thinking at the library. Indeed, the McNickle Center was intended to facilitate important topics related to stimulating research and improving scholarship in American Indian and Indigenous studies broadly, but it was built with the Indigenous community—teachers, scholars, and researchers—in mind. It was specifically founded to help facilitate their work, and to provide a meeting ground for Indigenous people interested in their own histories.
As an Indigenous Librarian working at a Predominantly White Institution (PWI), negotiating my relationship with the Newberry feels different from my everyday life and lived experience as a community member accountable to an inter-tribal Indigenous community here in Chicago and in Latin America. My work does not exist in a vacuum; it is not simply for the institution; it is also for the numerous communities that I come from, with which I work, and with which I stand in solidarity. I am accountable to these communities, above all. It can be a challenge for colleagues not living in the community and not from the community to fully understand this fact. While I have many interests, my passion lies in intentional community collaborations to build points of access to materials within the Newberry Library. An example is working in collaboration with Nahua community members in Cuentepec, Morelos, Mexico, to obtain a facsimile copy of a historical sixteenth century map of Tenochtitlan.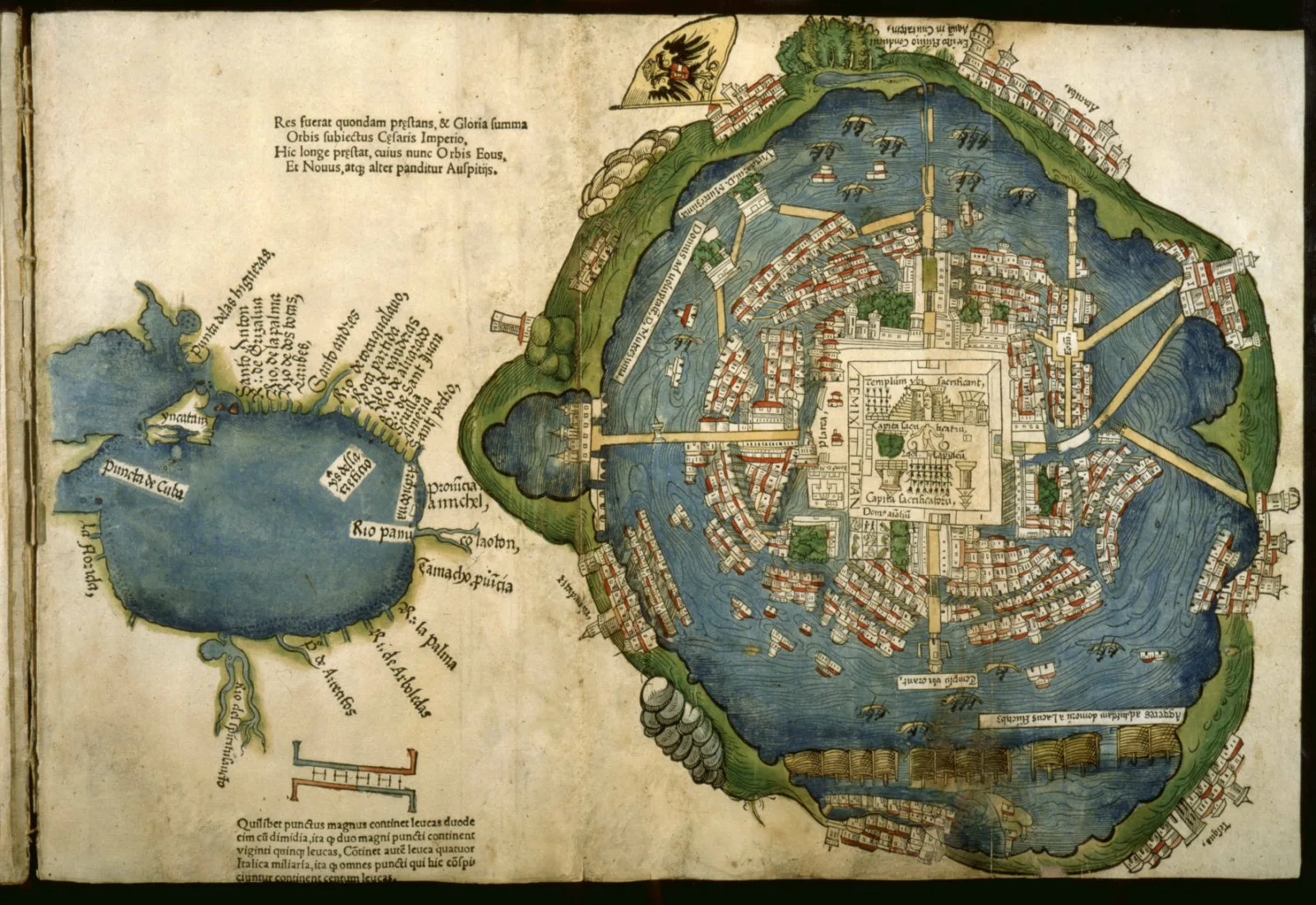 As the Indigenous Studies Librarian and Assistant Curator, I help steward the Indigenous studies collection while guiding library users through, connecting them with, and interpreting materials linked to the Indigenous Studies collection. Any time someone has a question about materials within the vast collection, I help them navigate it and connect them with resources for their research. I also lead many in-person instructional sessions and tours to visiting classes and groups. These range from high school and undergraduate students to Newberry-associated consortium groups, community groups, tribal representatives, and families; the list is very long. Aside from my main responsibilities, I am involved in multiple interdepartmental committees related to external and internal initiatives for providing access to materials to various Indigenous communities. For the past two years I have also co-chaired the Diversity, Equity, and Inclusion initiatives at the library. Since the Indigenous studies collection is quite vast, many community members are unaware of the existence of specific materials or related supplementary resources, so part of this work includes reconnecting the community to that knowledge and history. For example, at the moment I am working with my home community in San Luis Potosi, Mexico, to gather resources related to the Huachichil language and history.
My career as a librarian started back in 2010 while working for a research library in Chicago. The position I held at this library was a Digital Imaging Assistant and exposed me to many historical documents. In this role, I encountered many documents I had never known to exist, like a full run of Mexican newspapers. I wondered if research topics and assignments in high school would have changed had I known an institution like this existed. Would I have written about these newspapers? After working at this research library for many years I went to work for a contemporary art museum in Chicago. Working for that museum was traumatizing. During my time there I came to understand their blatant disregard for the communities that they and many museums profit from through the use of stolen labor and exploited narratives. Shortly after my time abruptly ended here, I decided to pursue a Master's in Library and Information Science in 2014. Over the years, I kept looking for job openings at the Newberry and finally after thirteen years and thirty-five job applications sent to various cultural institutions in Chicago, the Indigenous Studies Librarian position opened at the Newberry and I applied. This was also shortly after graduating from Dominican University with my Master's and a certificate in Archives and Cultural Heritage Resources and Services.
The Newberry has accomplished and continues to accomplish some admirable reconciliation and reckoning with its very own past as an institution tied to actions of Indigenous knowledge being separated from origin communities, especially within Indigenous communities in Latin-America. As Elizabeth Joffrion and Natalia Fernández wrote:
"When relationships are built on a foundation of trust and mutual respect, the resulting collaborative efforts can create beneficial alliances that produce new understandings of Indigenous cultural history and more sensitive approaches to the stewardship of Native heritage by non-Native cultural institutions."
All these efforts may mark a very small step toward reconciliation between institutions rooted in colonial history and Indigenous communities. But the work never ends.
ABOUT THE AUTHOR
Analú María López (Huachichil/Xi'iui) is Ayer Librarian and Assistant Curator of American Indian and Indigenous Studies at the Newberry Library. The Seeing Race Before Race exhibition is on view at the Newberry through December 29.
PURCHASE THE BOOK