This summer the Newberry adopted a new, five-year strategic plan. This plan is built on four pillars: advance and disseminate knowledge; build, diversify, and sustain communities of learning; grow, preserve, and increase access to the collection; and strengthen institutional health. With the aim of achieving the high expectations laid out in the strategic plan, two positions at the Newberry have been reconfigured to help bring the collection to life in innovative ways for users, both in the building and online.
In July, Jen Wolfe took on the new role of Digital Outreach and Scholarship Librarian. Prior to this change, Jen had spent many hours as the Digital Initiatives Manager diligently implementing the library's new digital asset management system, Cortex. This system, which went live in October, greatly improves accessibility to the Newberry's digitized archive, which now contains about 2 million files. But launching this new system is only half of the battle. "Putting archives online is great," Jen says, "and it's important that libraries do that, but my new focus is on adding value by making these things more user friendly, expanding the possibility and ease with which users can engage with content."
One of the ways Jen has been working toward this goal is via crowdsourcing projects with local schools, like the one shared in the Summer 2022 issue of Donor Digest. "The crowdsourcing projects have been consistently successful in getting people to engage with the digital collections," Jen says. "We're hoping to build out a regular program, creating a template and format that we can make available to any school, allowing students to become a part of historical scholarship, giving them agency, and helping develop real world skills by doing authentic tasks."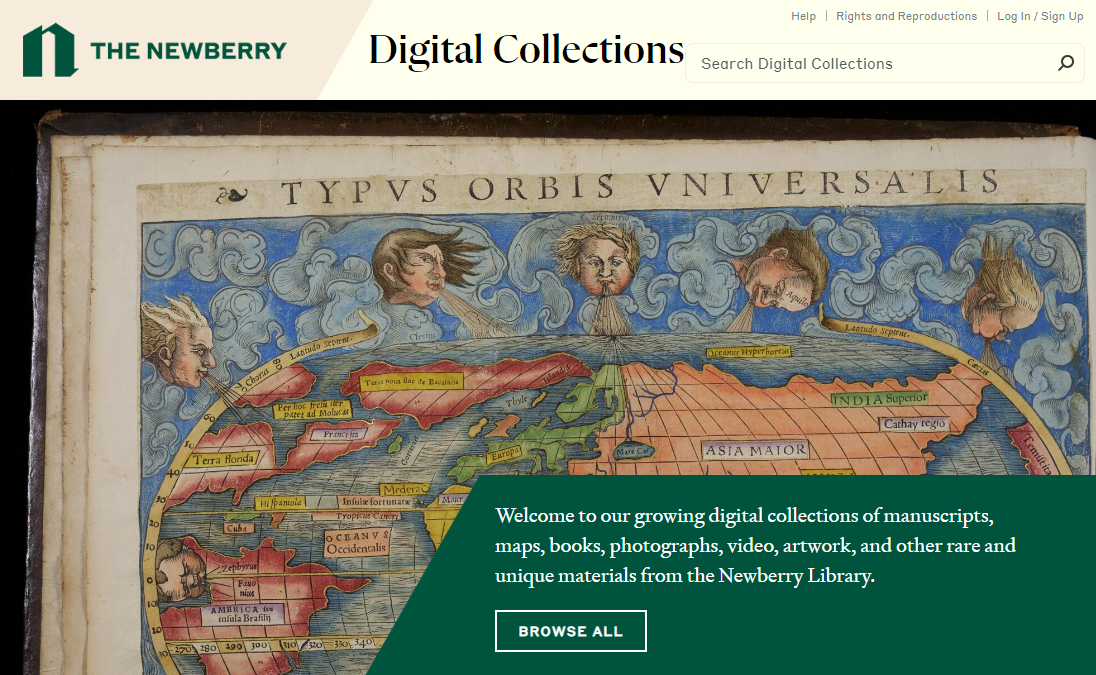 Another project that has Jen excited is her work to revamp ChicagoAncestors.org, a digital project of the Genealogy and Local History section at the Newberry. "ChicagoAncestors launched in 2004 and has been breaking down as it has aged. We're partnering with Urban Archive to take this old, clunky interface and update it, turning it into something dynamic, engaging, and exciting. It will be similar to a public history project they did with galleries, archives, libraries, and museums in New York. The ChicagoAncestors site is becoming something that many people beyond genealogists will be interested it." The new iteration of ChicagoAncestors will launch in early 2023, with features that facilitate the study of local history and extend the reach of the archive beyond the Newberry's walls.
While Jen works to expand the impact of the Newberry within the digital realm, Lisa Schoblasky is focused on bringing students to the building so that they can engage with materials in person. With her recent transition from Special Collections Services Librarian to Instruction and Outreach Librarian, Lisa will capitalize on her passion for connecting people to library resources. As Lisa explains, "If a high school teacher or college professor wants to bring their students in for a collection presentation and the opportunity to look at or work with materials, I'll coordinate the experience."
Class visits are not new to the Newberry, but the creation of this focused role formalizes the program in a way that hadn't previously been possible. Collection items commonly requested for instructional visits range across the holdings of the Newberry, but Lisa says items from the Ayer Collection as well as items from the Renaissance are particularly popular. Depending on the class, the purpose of instructional visits varies. Over her years of working with special collections and observing countless instructional visits, Lisa finds that "instructors want their students to get a sense of what a primary source is, what you can do with it, or even how you can look at it and interpret it."
Looking ahead, Lisa is excited about the potential for instruction here at the Newberry. "I hope to reach out to other age ranges and schools that don't know about the Newberry or what we offer. That would potentially mean working with Jen on some of her projects, because for some schools or students, it can be tough to come to downtown Chicago. So many teachers and students could benefit from learning about what we have and what one can do with it. Even just seeing the materials can really open people's eyes, change their educational trajectory, and maybe even change their life."
At the Newberry, we are always looking for ways to make the collection relevant and exciting in the eyes of our users. As a donor to the library, you are an important partner in this work. Thank you for your support.
This story is part of the Newberry's Donor Digest, Fall 2022. In this newsletter, we share with donors exciting stories of the work made possible by their generosity. Learn more about supporting the library and its programs.