On May 18, 2022, forty students from Walter Payton College Preparatory High School donated their time and skills to the Newberry Library to help transcribe 185 pages of handwritten letters, journals, postcards, and photographs. The students, all in their senior year, were volunteering for Sweetness Day, an annual day of service named for the school's namesake, Chicago football legend Walter "Sweetness" Payton.
"Kathryn Person and Aaron Weiss, two teachers at Walter Payton, reached out to arrange a volunteer opportunity for their students that would introduce them to the Newberry. Walter Payton is just a short walk from the library, so we've been able to cultivate some great relationships with teachers and students there," explains Kara Johnson, the Newberry's Director of Teacher Programs. "We decided on a transcribe-a-thon, which is when a group donates their time to deciphering and typing up the contents of manuscripts from our collection."
The Newberry houses more than 5 million manuscript pages. So far, 70,000 have been transcribed, with more being completed every day. These materials range from pre-printing press illuminated manuscripts to the journals of contemporary writers. Each manuscript is a one-of-a-kind resource, and transcription is a vital part of making such resources widely accessible. Transcriptions make these items more easily available to researchers and readers by turning the handwritten page into searchable text that can be discovered via the Newberry's catalog.
Johnson worked with the Newberry's Digital Scholarship and Outreach Librarian Jen Wolfe to select specific collections for the Walter Payton students to transcribe. They settled on the Brown Family Papers—a collection of journals, letters, and photographs from three Kentucky siblings in the early 20th century—and the Sherwood Anderson Papers—the archives of Midwestern writer Sherwood Anderson, best known for his 1919 novel Winesburg, Ohio.
"Reading and transcribing materials like these makes history more immediate," says Wolfe. "These are historical records, but they're also windows into daily life. For example, McAuliffe Brown, the Brown family's oldest child, kept a journal when he was fighting on the front lines of World War I. On November 28, 1918, which happened to be Thanksgiving, he wrote, 'Although I am not home to eat turkey, I am glad to be alive.' Then he detailed his dinner, which included hardtack, coffee, navy beans, potatoes, and 'C6O12H6.' That's the chemical formula for glucose. By transcribing these entries, students are helping to preserve the historical record and the moments of humanity that make it up. They are also getting to experience history first-hand."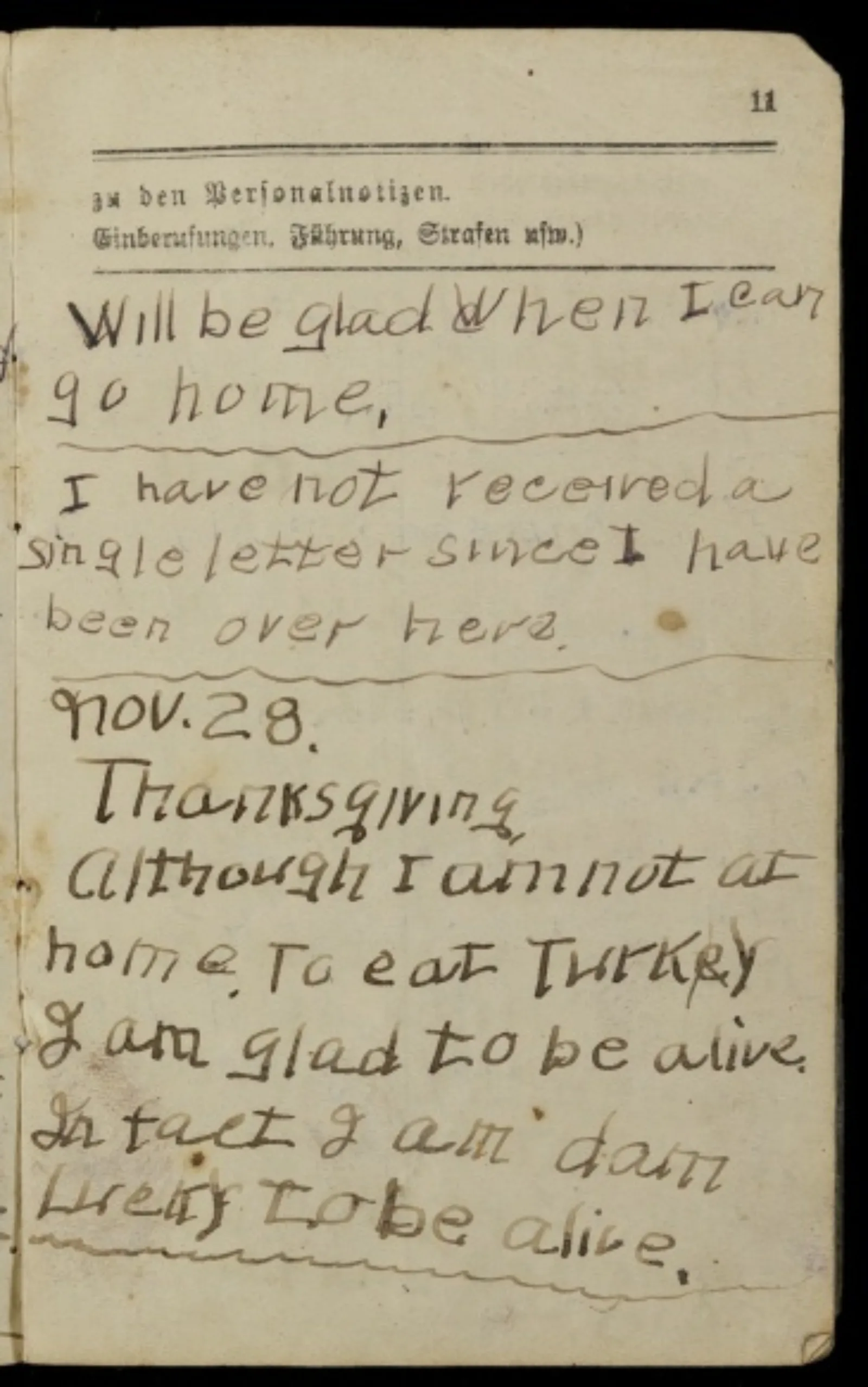 Students arrived at the Newberry at 9 am for a library orientation and "crash course" in using the Newberry Transcribe website, a crowdsourcing platform that allows people around the world to explore and transcribe manuscripts from the library's collection. Wolfe led the presentation, with help from Special Collections Services Librarian Lisa Schoblasky and Manuscripts and Archives Librarian Catherine Grandgeorge. Afterwards, the students returned to their school's computer lab to spend the day putting their transcription and research skills to the test.
"We could have gone out to the high school and presented there," says Wolfe. "But the teachers wanted their students to come and get to know the Newberry—to experience the grandeur of being in a research institution like this and learn about what types of things they can do here independently, like exploring our exhibitions or getting a Reader's Card."
By the end of the day, the entirety of the Brown Family Collection and a substantial part of the Sherwood Anderson Papers were transcribed—that's more than 185 pages of one-of-a-kind primary source materials. "Transcribing furthers our mission of improving access to the unique materials in our collection," says Johnson. "When students volunteer on Newberry Transcribe, they help create a digitally searchable record of history. That's a huge help to researchers, our staff, and the rest of the world."
"Thank you for hosting us and giving the kids all the background and instructions," wrote teacher Aaron Weiss following the event. "I was holding my breath a little to see how it went, but they really got into transcription. I even had a few ask if I can host occasional after-school meetings for them to do it again!"
Resources like Newberry Transcribe and the library's Teacher Programs department are made possible by the generosity of donors like you. Thank you for helping us build opportunities for engagement with the humanities and introduce the Newberry to a new generation of history buffs.
Explore the Brown Family Papers on Newberry Transcribe. Or, try your own hand at transcription with one of the hundreds of other digitized collections waiting to be transcribed.
Do you have a teacher in your life? Explore the Newberry's Teacher Programs, which offer professional development for educators, free online resources, tours of the library, and in-class visits with primary source materials.
This story is part of the Newberry's Donor Digest, Summer 2022. In this newsletter, we share with donors exciting stories of the work made possible by their generosity. Learn more about supporting the library and its programs.