For 26 years, the Newberry has offered students at DePaul University, Loyola University Chicago, Roosevelt University, and the University of Illinois Chicago the opportunity to participate in the Newberry Library Undergraduate Seminar (NLUS), an intensive research seminar inspired by our collection. Over the course of the semester, NLUS students attend lively seminar meetings, read an extensive array of both primary and secondary sources, and work closely with Newberry staff to develop individual research questions before heading into the collection on their own. The experience culminates with each student writing a major research paper and presenting their project to the broader Newberry community.
The spring 2023 NLUS seminar was titled "Inventing Mexico: Maps, Manuscript, and Materiality, 1521–1921" and made use of the Newberry's extensive holdings relating to Latin American history and culture. Led by Dr. Delia Cosentino (Associate Professor of History of Art and Architecture, DePaul University) and Dr. Emmanuel Ortega (Marilynn Thoma Scholar and Assistant Professor in Art of the Spanish Americas, University of Illinois at Chicago), the seminar welcomed 20 students from a wide range of academic backgrounds.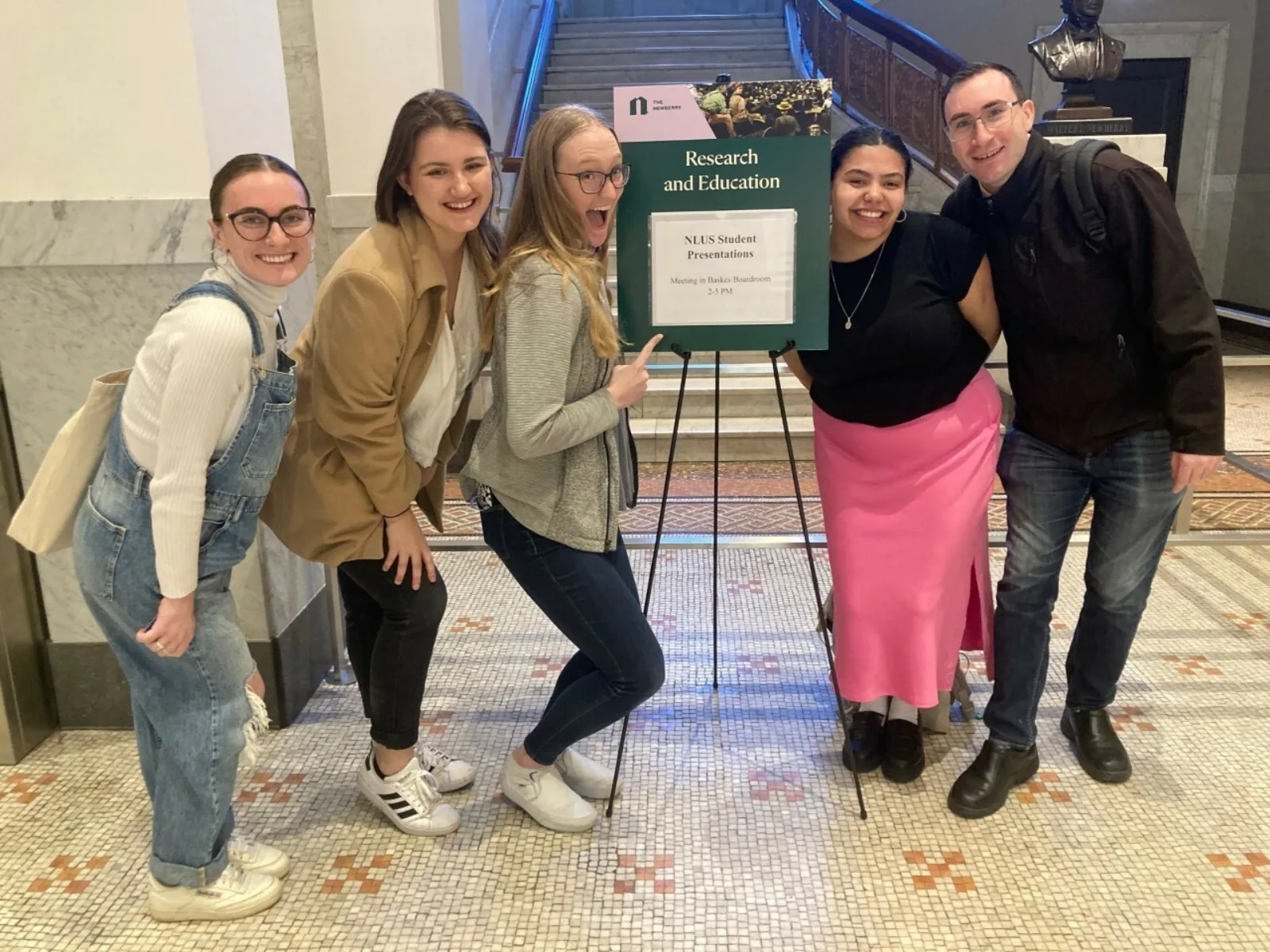 "This is by far the best undergraduate class I've had in twelve years of teaching," said Dr. Ortega as he introduced the students for their presentations. "Each one of you has brought new insight to your areas of research, many of them understudied, and I am so confident that you will succeed in whatever you do." Dr. Ortega also thanked the Newberry for making the NLUS program possible, noting that the Newberry "is one of very few places where these critical conversations are happening."
Students' projects and the primary sources they examined ranged widely, from an exploration of the role Nahuatl-language comedias played in 16th-century New Spain to a deep-dive into US propaganda during the Mexican-American War (1846–48).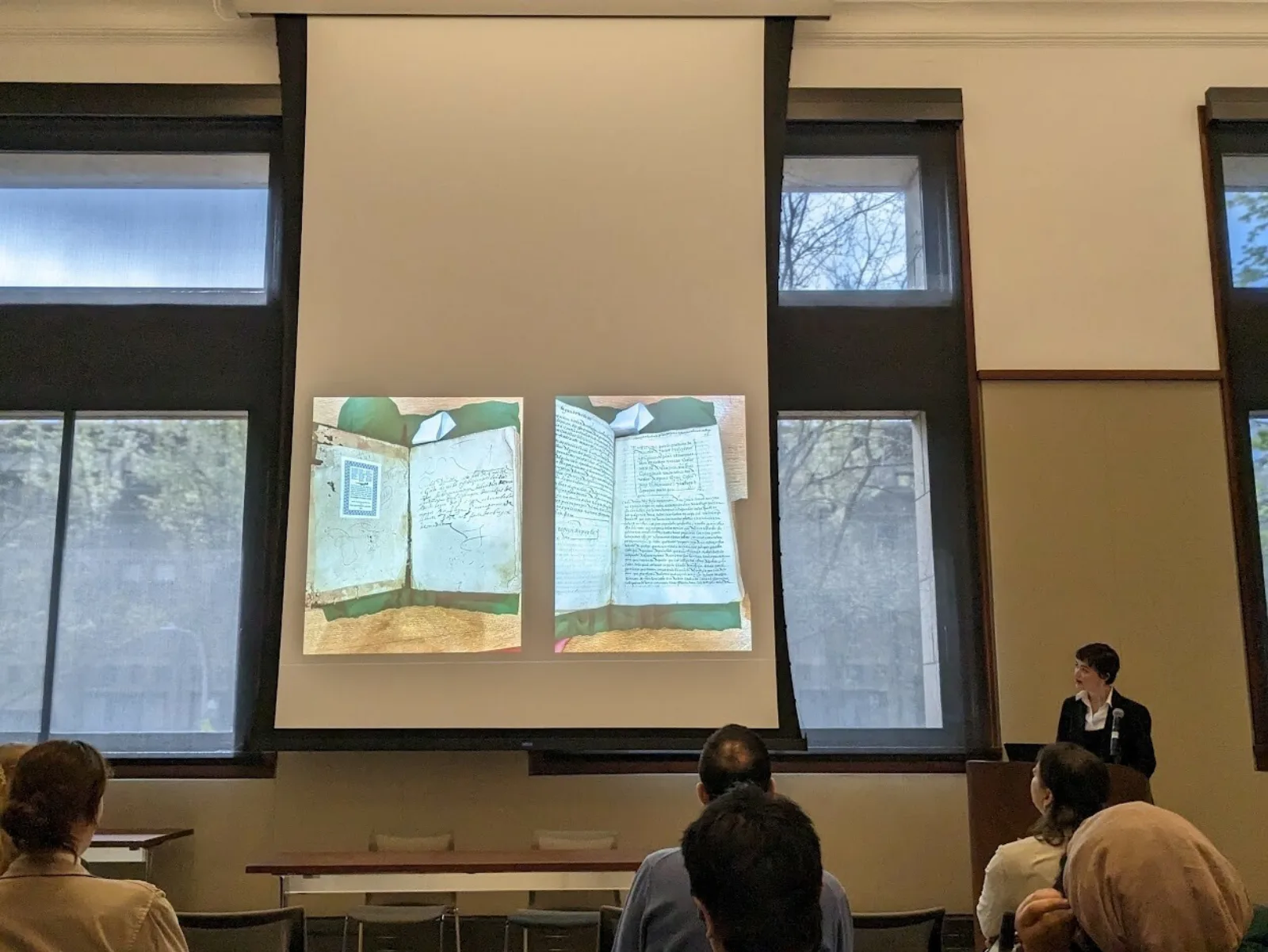 Natalia Delgado (DePaul University) introduced her project "Tlamahuizolli: An Anti-Colonial Analysis of storytelling through La Virgen Maria" with an explanation of its title. "Tlamahuizolli means something to be amazed by or wondered at. This word describes my time at the Newberry as well," Natalia explained. "Every time I entered the archives, I found something new."
Other students agreed. Jesus Leal, a senior at Loyola University Chicago majoring in biology and minoring in history, used his research time to explore the appropriation and destruction of Indigenous medicinal practices, as evidenced in 16th-century manuscript materials. He commented that although his major and minor are different, they come from the same place of learning and discovery. "That's what makes history and science fun—you always get to keep exploring."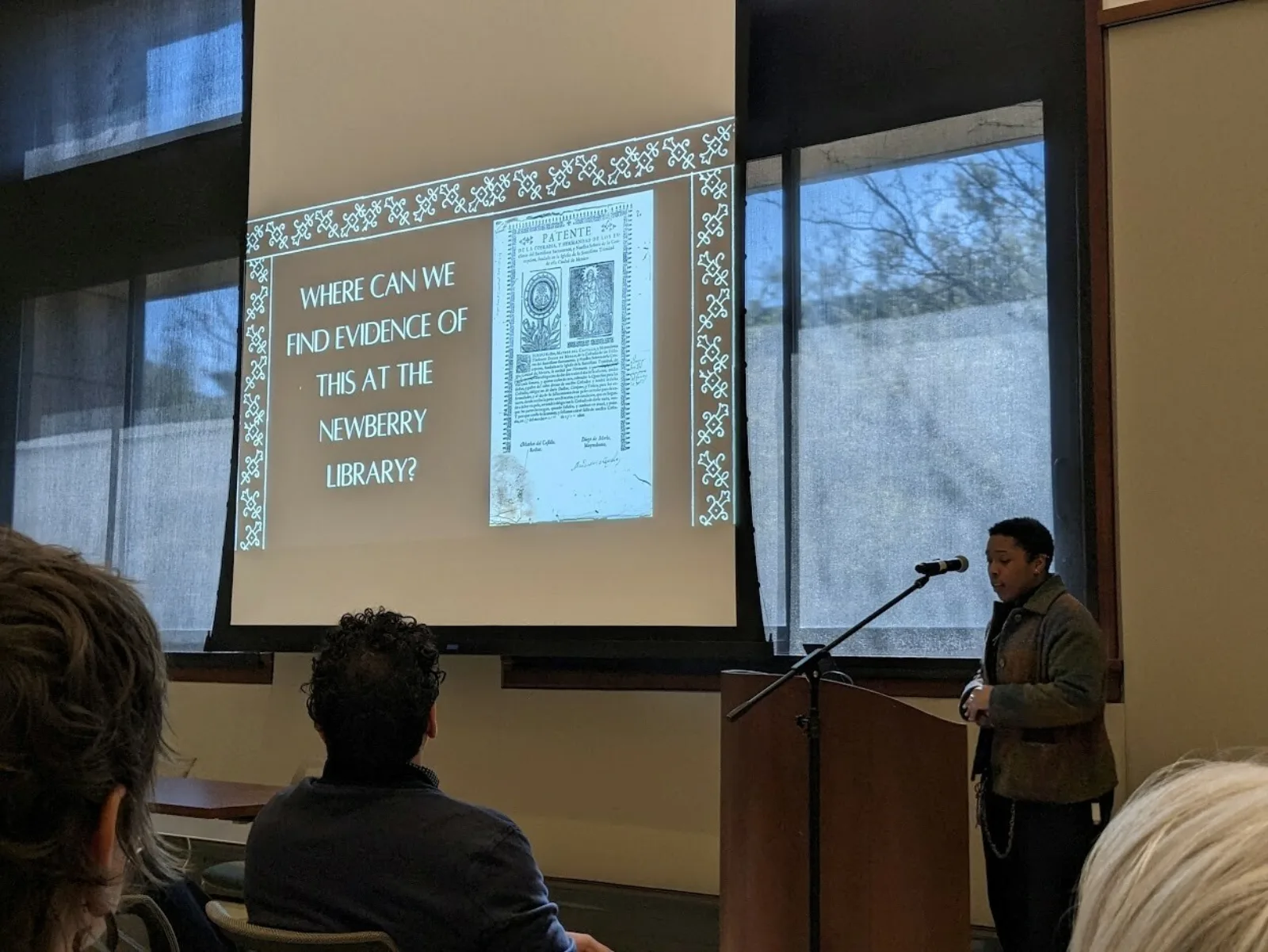 Even after NLUS students complete their presentations and turn in their final papers, they continue to have a place at the Newberry. "You are part of our scholarly community," said Keelin Burke, Director of Fellowships and Academic Programs at the Newberry. "We are so glad you are here and we look forward to seeing all the wonderful things you do in the future."
Programs like NLUS are made possible by the generosity of donors like you. By making a gift to the Newberry, you give students like Natalia, Jesus, and their classmates the opportunity to learn, research, and discover through our collection. On behalf of the Newberry and our scholarly community, thank you.