Professional Development for Teachers
Today's busy teachers need time to breathe, re-set, meet other educators, and explore new ideas for their classrooms. To help teachers build on their knowledge and update their toolkits, the Newberry offers a series of content-based professional development seminars.
Seminars for Illinois Teachers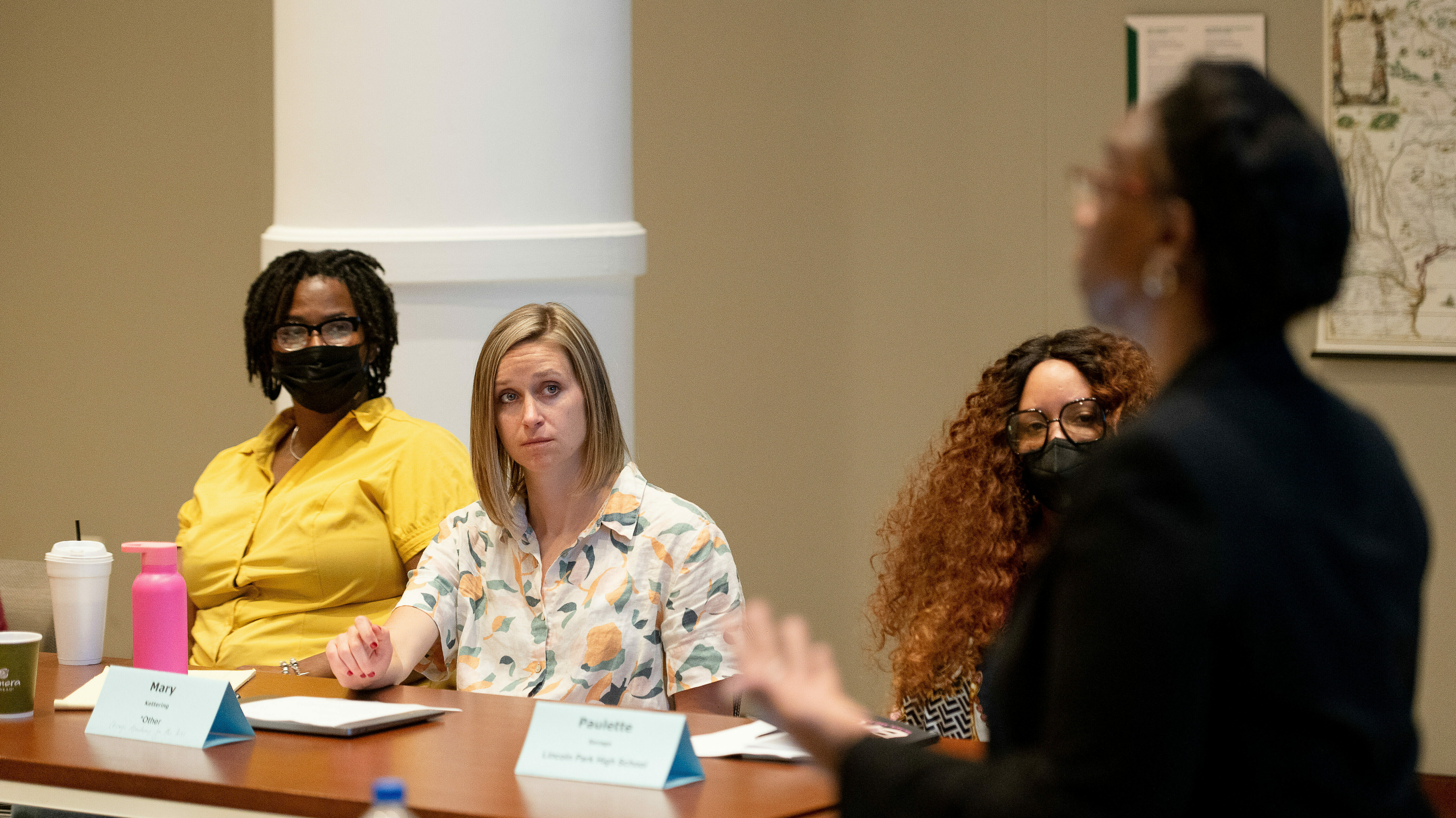 In the ever-changing world of K-12 education, this professional development series provides Illinois teachers with ideas and resources they can apply in their classrooms. Led by scholars and educators from the Chicagoland area and beyond, these humanities-focused seminars create space for teachers to learn, connect with peers, and explore the Newberry's collection as scholars.
We offer two seminar formats: seminars that last three hours and provide three CPDUs (Continued Professional Development Units) and seminars that run for six hours (including a one-hour lunch break) and provide five CPDUs.
In order to receive CPDU credits, participants must attend the seminar in its entirety.
Three-hour seminars cost a flat rate of $150 per seat. For administrators and school districts that are purchasing six or more seats, the rate is $120 per seat.
Five-hour seminars cost $200 per seat. This rate is reduced to $170 per seat when purchasing six or more seats.
You can view the seminar calendar and register on Learning Stream, the Newberry's event registration platform.
We offer several professional development opportunities throughout the school year.
"Newberry Conferences are routinely the best professional development I attend each year. The presenters are always top-tier historians who provide immediately relevant and useful material for my classroom. The entire staff at The Newberry Library treats teachers with professionalism which makes me feel appreciated. I highly recommend that teachers find a session that interests them and sign up."
-Jon Elfner, Homewood-Flossmoor High School, Flossmoor
"Teachers understand that they must continually be students to be better teachers. Lifelong learning is a concept that we try to impart to our own students, and the Newberry Teacher Seminars allow us to be actual practitioners of it."
-Lorin Pritikin, Frances W. Parker School, Chicago
Seminars for Chicago Public School Teachers
This professional development series brings CPS educators to the Newberry to grow as classroom professionals, pedagogy specialists, and ambassadors of knowledge.
Our humanities-focused seminars emphasize skills-building and content related to the Common Core Standards in English Language Arts and History/Social Sciences. Topics align with the C3 learning framework, and are relevant to teachers and students, both in and outside of the classroom. Seminars explore everything from gender and sexuality in Shakespeare to the history of redlining in Chicago.
This program is generously funded by the Robert and Penelope Steiner Family Foundation.
Attendees receive five Continuing Professional Development Units (CPDUs) for each seminar.
All Chicago Public School teachers and administrators in the CPS system qualify for this free program. Attendees will also receive a $200 stipend for participating in a seminar at the Newberry. Educators may qualify for an additional sub coverage stipend to offset their home district's substitute expenses.
CPS teachers and administrators get priority access to seminar registration. Illinois teachers not in Chicago Public Schools are welcome to apply, but we cannot guarantee their spot in a seminar. All registrants will be notified of their acceptance to the seminar three weeks before it starts.
You can view the seminar calendar and register on Learning Stream, the Newberry's event registration platform.
We offer several professional development opportunities throughout the school year.
The Newberry Library seminars communicate with teachers the need to be aware of the benefits and highlights of the many cultures that are a part of today's society. They also share with teachers how their programs and exhibits can be integrated with the core curriculum.
-Arturo Barrera, Louis Pasteur Elementary School, Chicago

I was amazed by the knowledge and dedication of each presenter. The most amazing aspect of the Newberry seminars is that my students will be able to use primary resources to understand the history behind the literature we study.
-Paulette Savage, Lincoln Park High School, Chicago
Frequently Asked Questions
While both programs are led by leading scholars in their respective fields and follow a discussion-based format, the key difference is pricing. Our CPS seminars are free for CPS-affiliated educators and administrators. Our Illinois series is a subscription-based program for all certified Illinois teachers (CPS educators included).
Illinois teachers not affiliated with CPS are welcome to apply for the CPS series. But CPS teachers and administrators receive priority access to register for these seminars. Illinois teachers not affiliated with CPS are welcome to apply, but their spot is not guaranteed upon registration. While the program is free and offers CPDUs to all participants, non-CPS teachers are not eligible for participation stipends.
You can pay by credit card on our registration platform, Learning Stream, or by invoice from the Newberry's Teacher Programs office.
The Newberry is pleased to be a preferred professional development vendor for Chicago Public Schools. During registration, CPS-affiliated registrants may request to pay for the seminars in our Illinois teachers' series via purchase order. The Newberry's vendor number is #37355.
If you're a registered participant in the seminar, all you'll need is a computer (or a phone or tablet), a webcam, and a reliable internet connection.
Once you're officially registered, you'll receive an email from the Newberry's Teacher Programs team with any assigned pre-seminar materials at least one week prior to the seminar.
Due to the terms of our professional development accreditation, as well as privacy and consent rights for instructors and participants, virtual seminars are not recorded.
We're eager to hear feedback on what you want and need from professional development programs. Please contact us at teacherprograms@newberry.org to share your thoughts!
We welcome all suggestions for potential instructors and topics. You can send us a note at teacherprograms@newberry.org. We look forward to hearing from you!
The Newberry offers custom professional development programs for school departments in the Chicagoland area. These full-day programs (9:30 am - 3:30 pm) can be customized to your department's needs and interests. The seminars are led by Newberry staff and include a presentation of primary sources from the Newberry's collection. Participants will receive five CPDUs for attending. Pricing will be scaled according to the size of the group and amount of staff time required to administer the seminar.
More for Teachers and Students
Classroom Resources
Free teaching resources that make it easy to incorporate primary sources into K-12 classrooms.
Student Experiences
Opportunities for high school teachers and students to engage with real historical documents right in their own classroom.
Have a Question?
We're Here to Help
Guided Tours
Free docent-led tours explore the Newberry's historic architecture or one of our current exhibitions.
Upcoming Tours
Hermon Dunlap Smith Center for the History of Cartography
Helping scholars, teachers, and the public understand the world through maps.
Learn More