Ledger art is part of a long tradition of Native people documenting their history on their own terms. Many Plains Native communities started chronicling events pictorially on materials like rocks and buffalo hides. Beginning in the mid-19th century, they used pages of ledger books obtained from settlers.
An example of adaptation and agency, ledger art is deeply embedded in the sociopolitical context of a given time. In the face of mass removal, assimilation efforts, and other genocidal actions taken by the U.S. government, Native communities found ways to continue observing their traditions and cultural practices using what was around them––in this case, repurposing found pages of ledger books when materials like buffalo hides became scarce.
Depicting everything from scenes of warfare to courtship, ledger art books tell readers about the memories, values, and presence of the communities who authored them. The images are drawn with a variety of materials, including colored pencils, crayons, and ink.
One of the most well-known ledger art books is the Cheyenne "Black Horse Ledger" illustrated between 1877 and 1879.
Several Cheyenne warrior artists (including Black Horse, for whom the ledger is named) contributed drawings. Most of the drawings portray Cheyenne attacks on Pawnee, Crow, and Shoshone people as well as encounters with white settlers. Several vibrant drawings at the end of the book illustrate courtship and other aspects of everyday life.
Viewing ledger art is an active experience that often requires readers to move and rotate the books to see the drawings properly; sometimes, one drawing can even extend across multiple pages.
Take, for instance, the appearance of U-shaped hoof prints that extend across page 37 of the Black Horse ledger. A continuation from the pages before, these prints indicate movement by the soldiers and their horses while the orientation of the drawing encourages viewers to rotate the page horizontally to see the entire scene.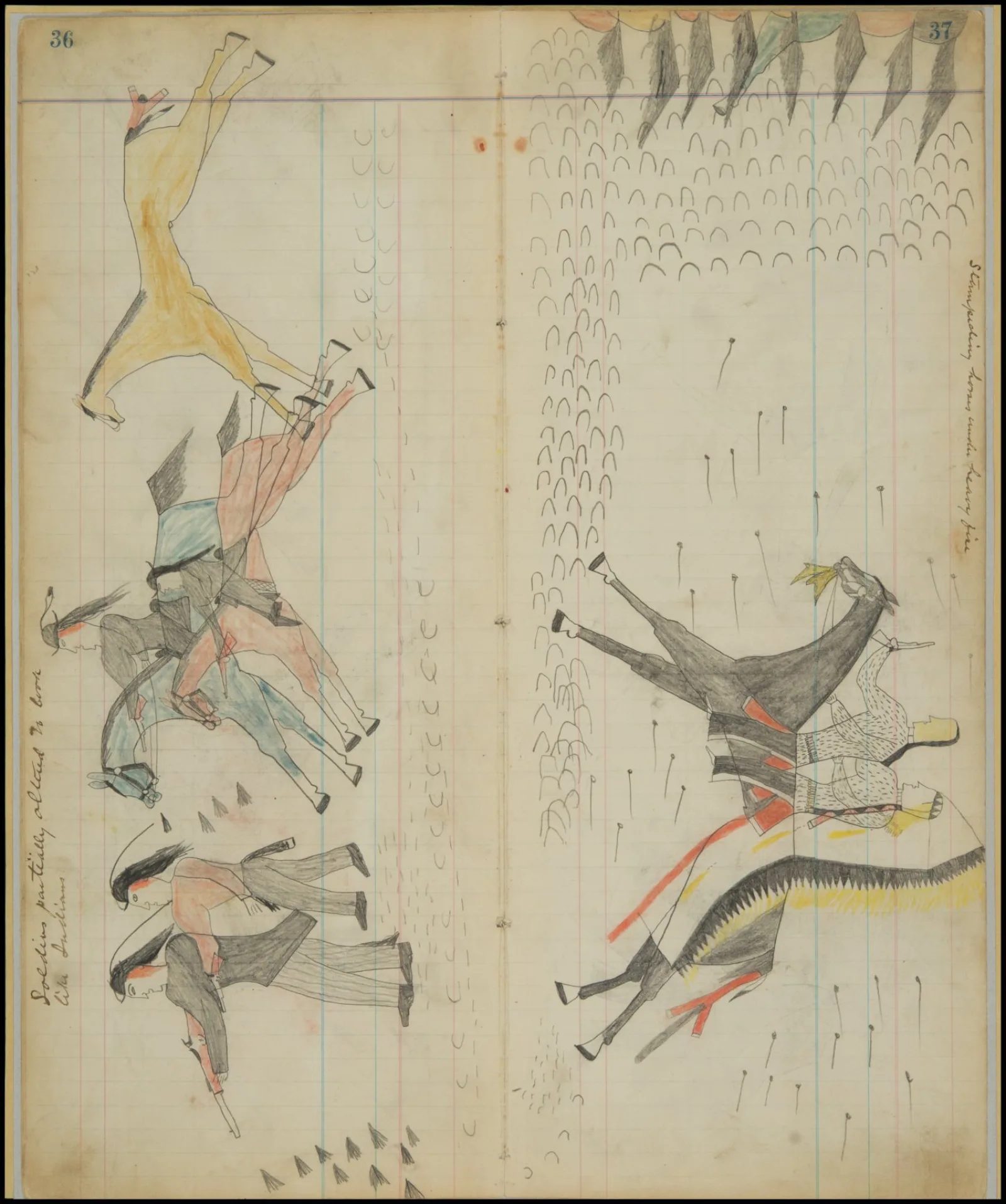 Movement is also expressed through the inclusion of rivers, like the one in the "Wadsworth ledger book" shown below. Lined with plants and surrounded by tipis, the river cuts across the entire left page and leads the reader to the next scene. Like elements found in maps, these details guide the reader's eye and give movement to the page, all while connecting different parts of a story into a cohesive whole.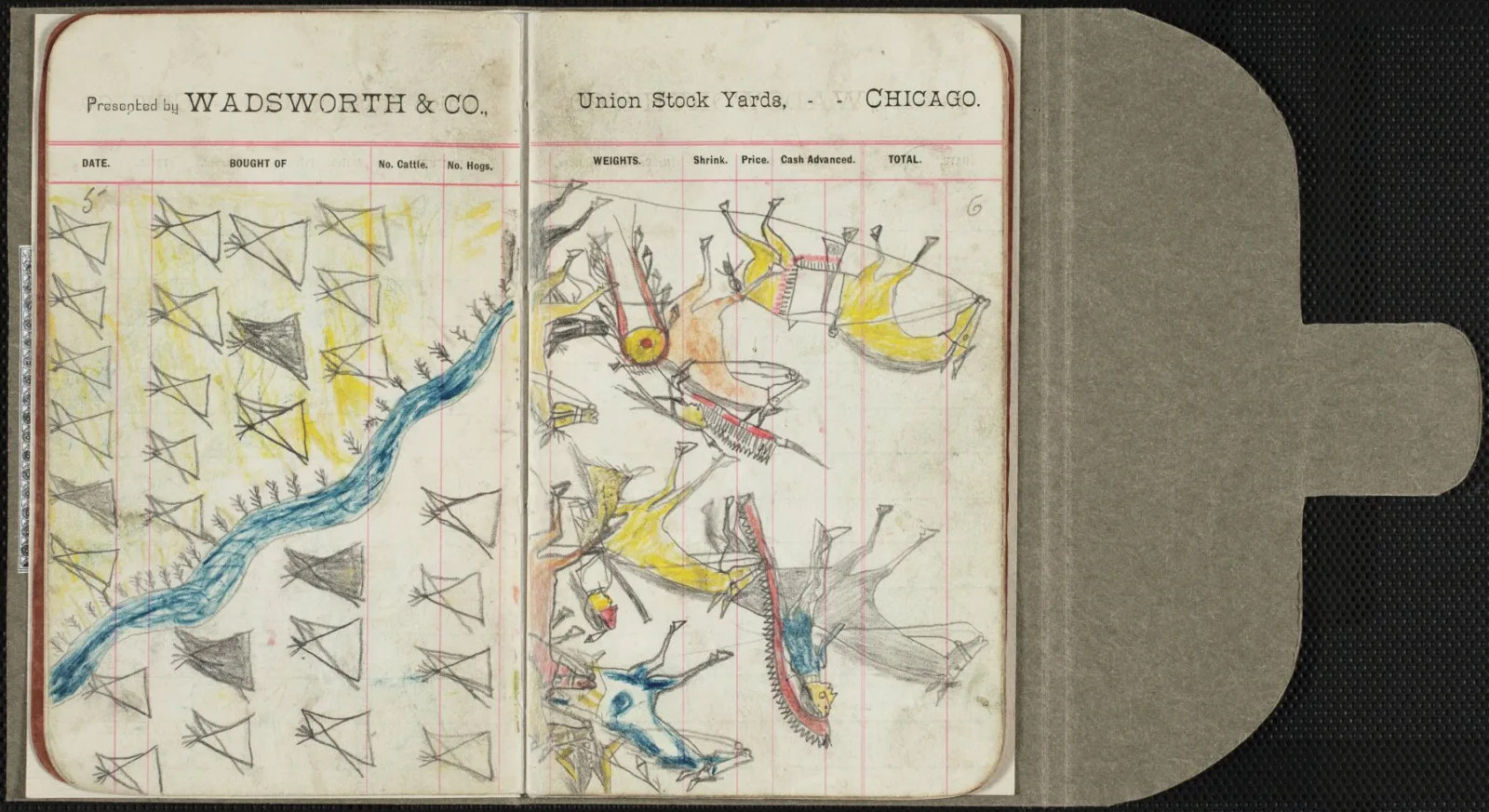 The Wadsworth ledger was created sometime between 1850-1900 in a book from Wadsworth & Co., a once-prominent Chicago company that handled meatpacking, dry goods distribution, and other operations. Though unsigned and unattributed, the 29 drawings in the Wadsworth ledger appear to be tied to Plains Native communities.
It was common for more than one artist to contribute to works of ledger art, which serves as a testament to the communal and place-based significance that these works hold.  As Denise Low (Cherokee and Lenape) and many other Native scholars have pointed out, ledger art is a "holistic" representation of reality that goes beyond linear representations of time and place—rather, works of ledger art are like a "complex narrative map" that capture nuances oftentimes left out. Accompanying the pictures are stories, connections, and oral traditions that give meaning to the images and events depicted.
Ledger art is not solely an art form of the past—many contemporary Native artists continue to build on this long tradition in ways that reaffirm and rekindle relationships with ancestors, places, and each other.  
One example is Chris Pappan, a Chicago-based artist of Kaw, Osage, and Cheyenne River Sioux heritage. His work (quite literally) draws on his ancestors' ledger art tradition, and his contemporary layered additions emphasize connections across past, present, and future.
Made in 2018, the portraits shown here are Part 1 and Part 5 of his six-part series entitled "The Return." In the words of Pappan, "These works are literal reflections, a return of the colonial gaze back onto the viewer aiding in these realizations: that Indigenous people still exist in these lands, my belief that our ancestors are watching and guiding us, and that we as Native people have agency and can demand a higher standard for ourselves."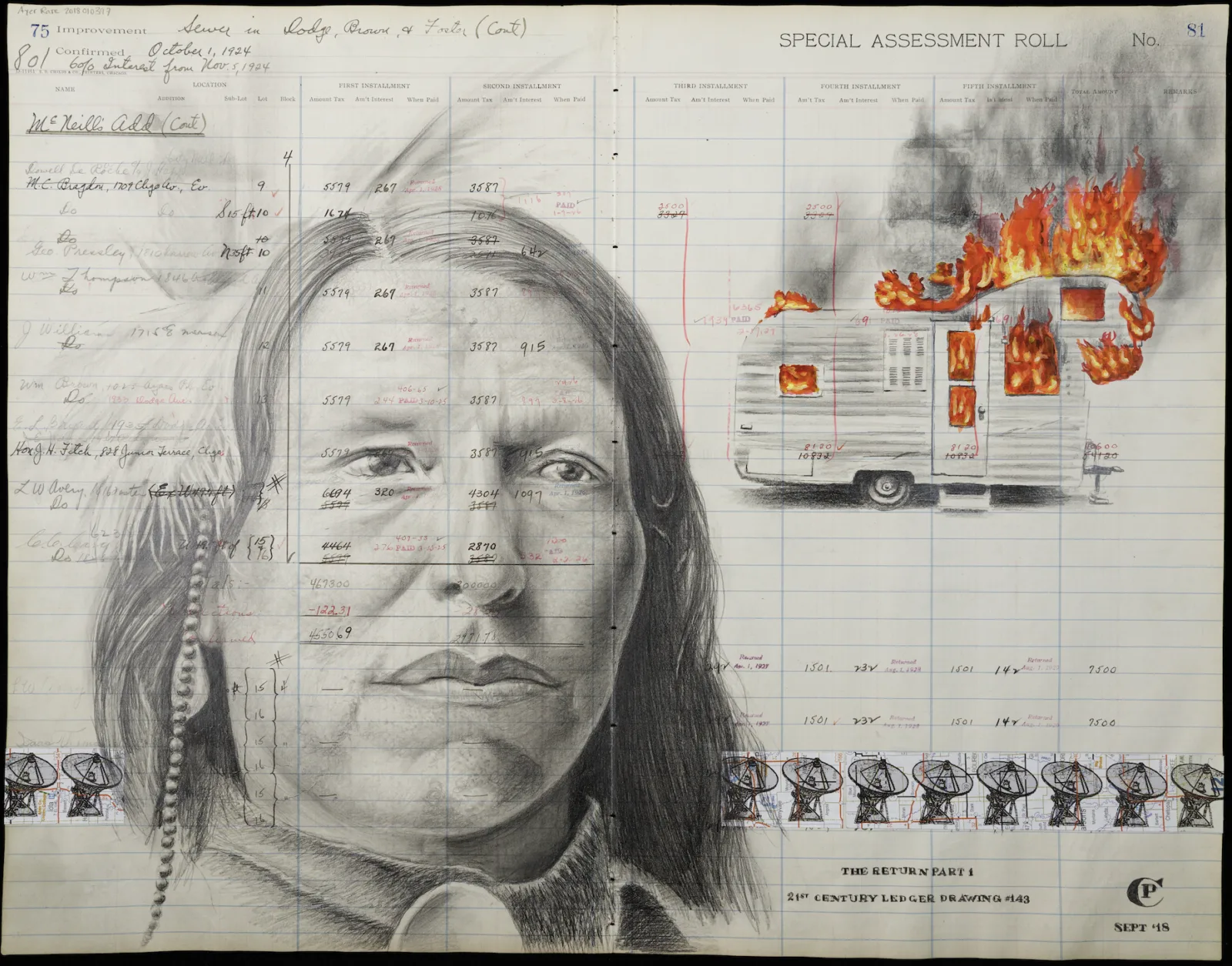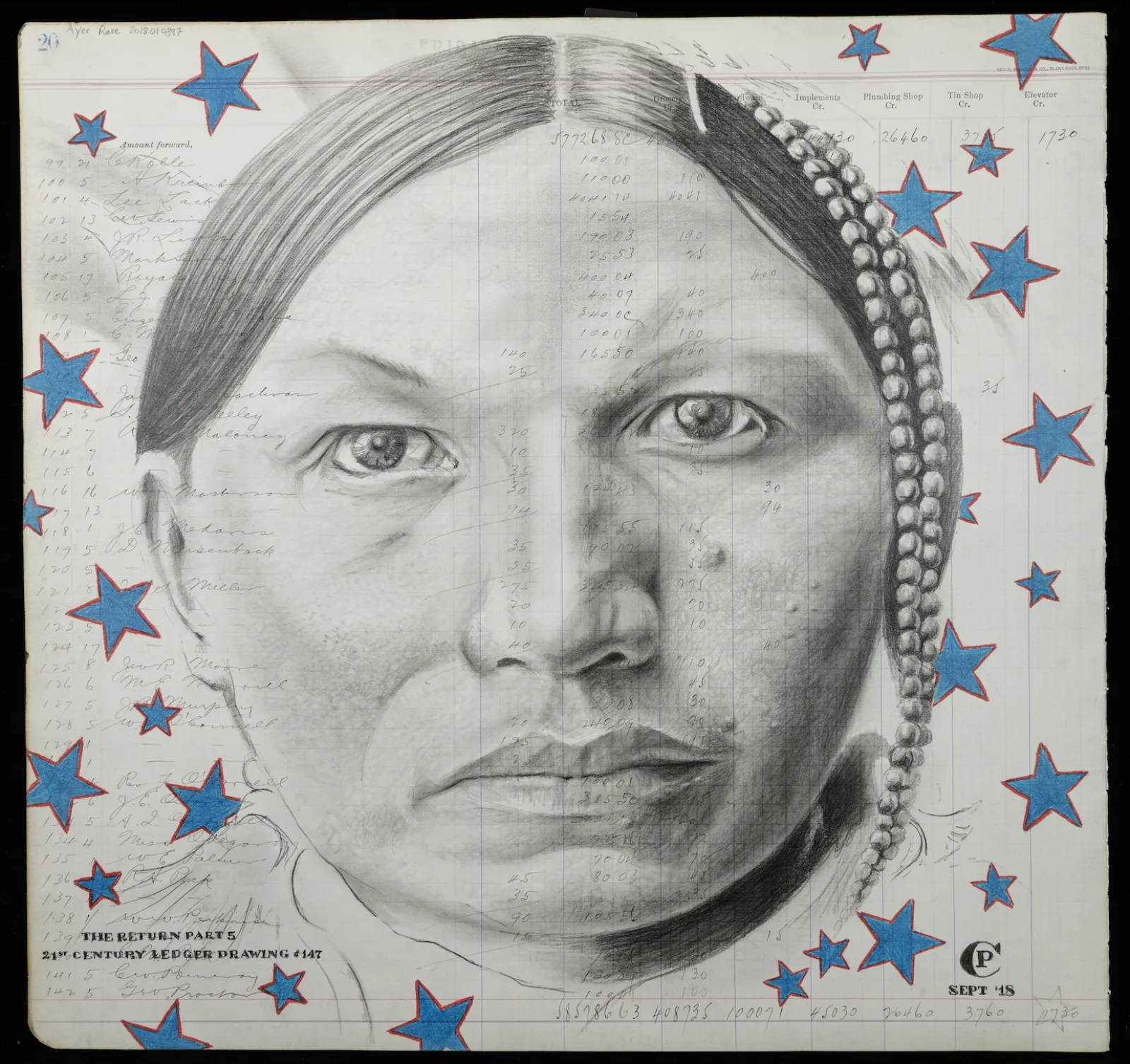 In a similar vein, Hunkpapa Lakota artist Gilbert Kills Pretty Enemy III uses ledger paper as a canvas for his 2016 series of Dakota Access Pipeline protest posters, of which the Newberry has inkjet reproductions. In one poster entitled "Incredible Hulk vs. The Black Snake (DAPL)," a Native Incredible Hulk fights a Lakota representation of the proposed 1,172-mile oil pipeline that would run through four states and under the Missouri and Mississippi Rivers.
In another poster entitled "For Those Who Have No Voice," a group of Native protesters take down the pipeline/black snake—which, in this depiction, Kills Pretty Enemy III represents as an oil-leaking, cash-pouring monstrosity.
Many community members emphasize the generative nature of #NoDAPL resistance, highlighting the long legacy of Indigenous resistance from which these protests stemmed.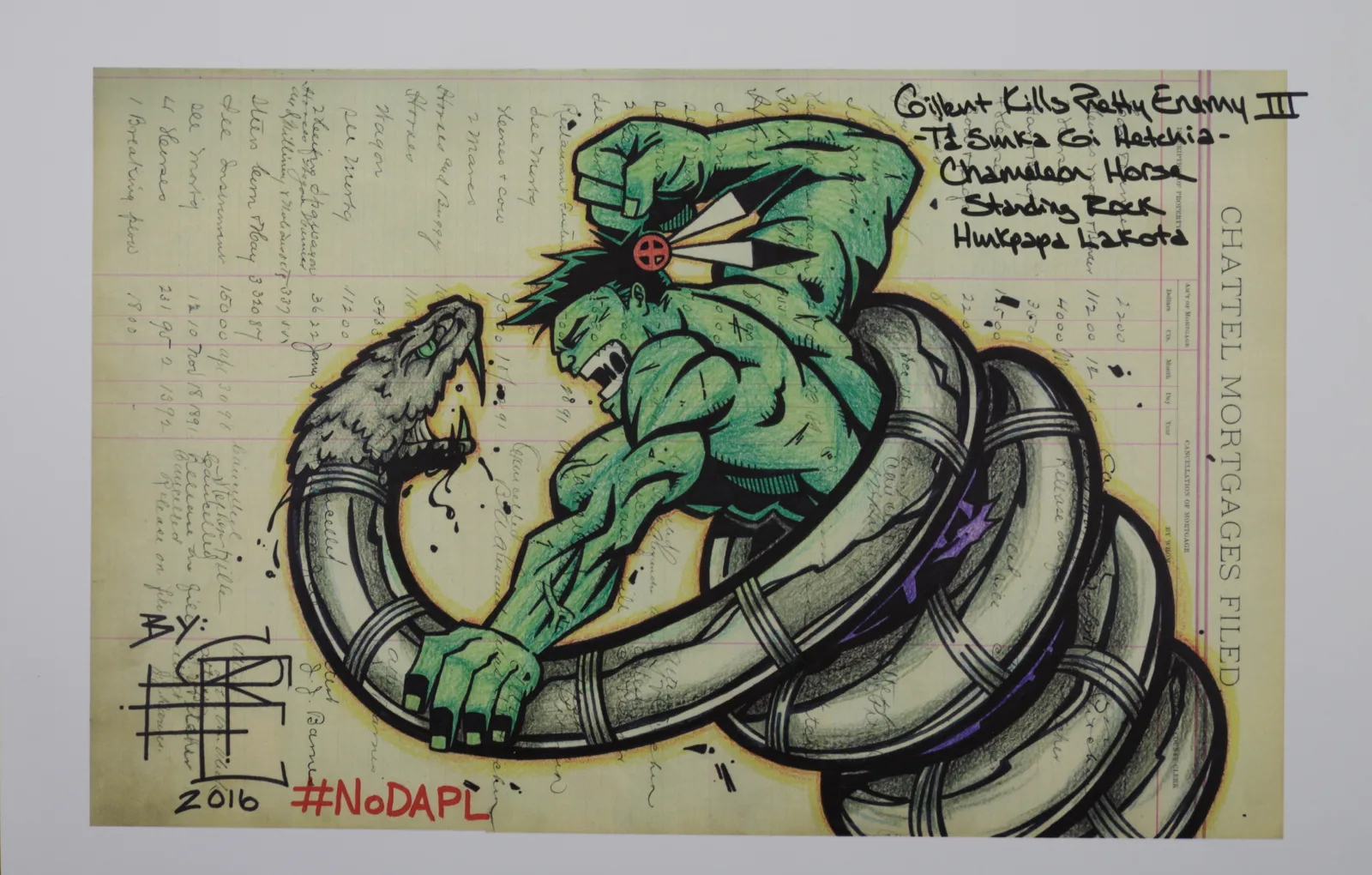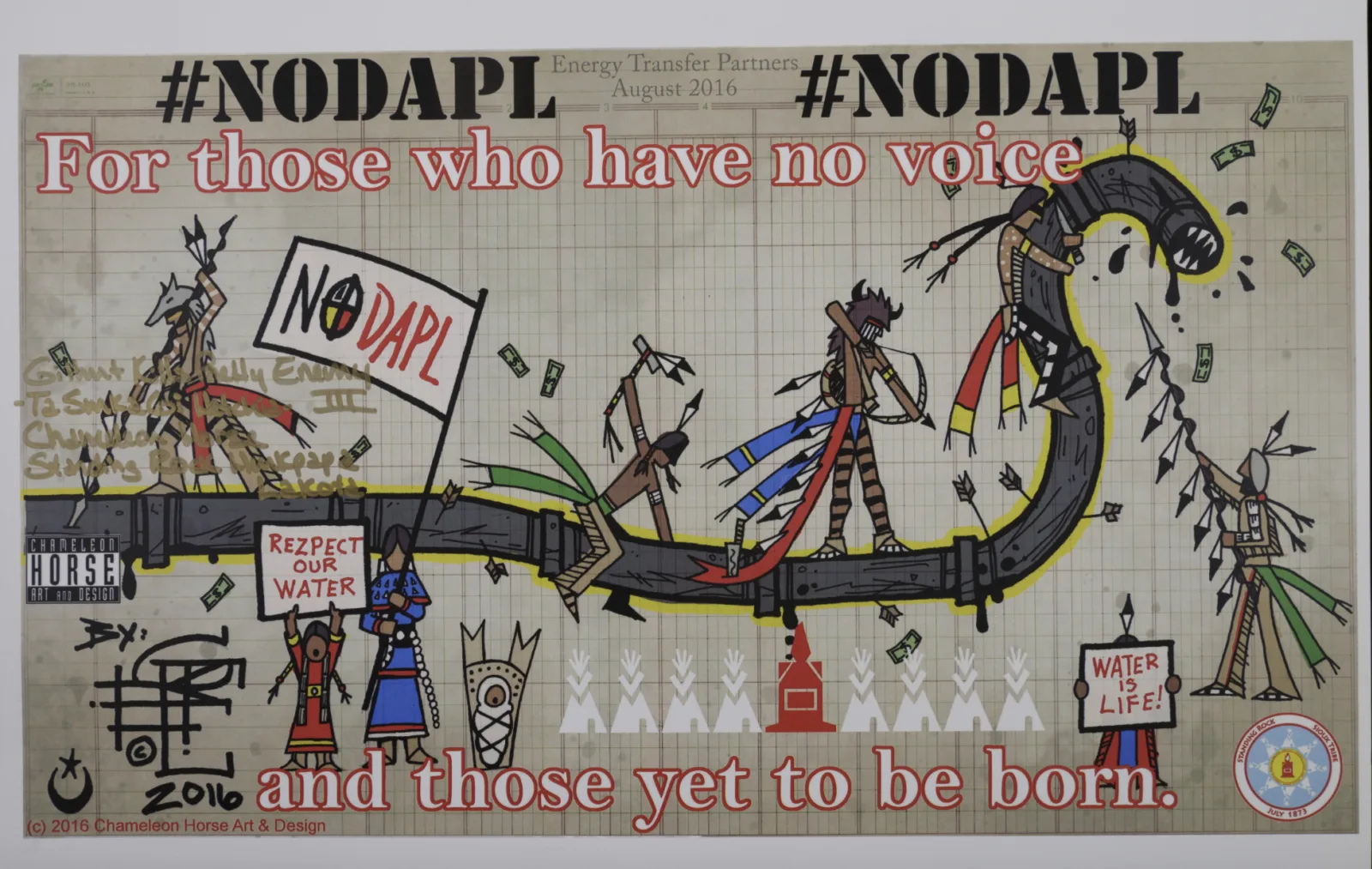 Kills Pretty Enemy III's use of contemporary imagery on top of copies of ledger paper continues his ancestors' practice of documenting events pictorially, while placing the #NoDAPL struggle within the broader context of Indigenous resistance.
Both Pappan and Kills Pretty Enemy III also challenge settler colonial narratives that have positioned Native people as vanishing relics of the past or just simply passive victims of colonialism. By layering the practice of ledger art with contemporary images and additions, they reclaim control over these narratives and remind viewers that Native identity is dynamic, multifaceted, and not devoid of agency.
Marginalizing or erasing the presence of Native peoples from historical narratives was, and continues to be, a powerful tool of settler colonialism—as are material acts that threaten Native communities, such as pipeline construction. Ledger art is one way that some Native communities counter harmful stereotypes, reassert their cultural continuity and sovereignty, and emphasize connections through time.
About the Author
Haku Blaisdell is the Communications Coordinator at the Newberry.